Just a short drive from Dublin, Kilkenny and Wicklow are two of the most accessible counties in Ireland to travel to on a day tour. Both counties are loved for their own reasons, from all the tiny craft stores lining the streets of Kilkenny to the famous round tower standing tall at Glendalough in Wicklow, and both counties have so much to offer the visitor than first meets the eye.
Wicklow often referred to as the garden of Ireland, is one the most picturesque destinations in Ireland and is paradise for those that love the great outdoors. From spending hours hiking the trails through the Wicklow mountains to stopping to watch the same mountains reflect perfectly in the Lough Tay below, a day out in Wicklow has something to offer everyone.
Kilkenny, on the other hand, is an ancient city famous for its' magnificent castle, its' famous brews and its unrivalled hurling team! Here we look at all the wild and wonderful places across the two counties, proving that side by side these are two must-visit destinations in Ireland, and everyone should visit the Wicklow Mountains or Kilkenny at least once in their life! You can visit both Wicklow and Kilkenny in one day on Wild Rover's one day tour to Glendalough co Wicklow, the Wicklow mountains and Kilkenny. For now, check out some of our favourite experiences and parts of Wicklow and Kilkenny.
Enjoy the breeze from Bray to Greystones
Easily accessible on the DART line running south of the city, the beautiful cliff walk from Bray to Greystones along the rugged Wicklow coastline, is one of the most spectacular walks in Ireland. At just over 6km long, the walk shouldn't take more than 1 to 2 hours, depending on how fast you walk and how many times you stop to take photos!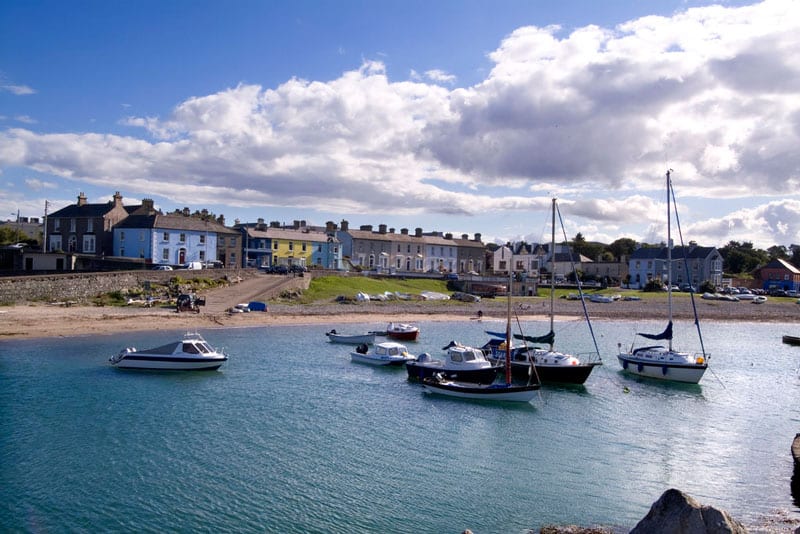 Step back in history at Glendalough
Glendalough, which means 'Valley of two lakes' in English is a glacial valley that is famous for its early medieval monastic settlement, which was founded in the area by St Kevin in the 6th century. The area plays host to a 30 metre tall round tower, St Kevin's Church, as well as four additional churches that remain in various states of preservation. Despite the area being one of the most visited attractions in Ireland, the area is large enough, and the sites impressive enough, to still leave you feeling in awe of this truly magical part of Ireland.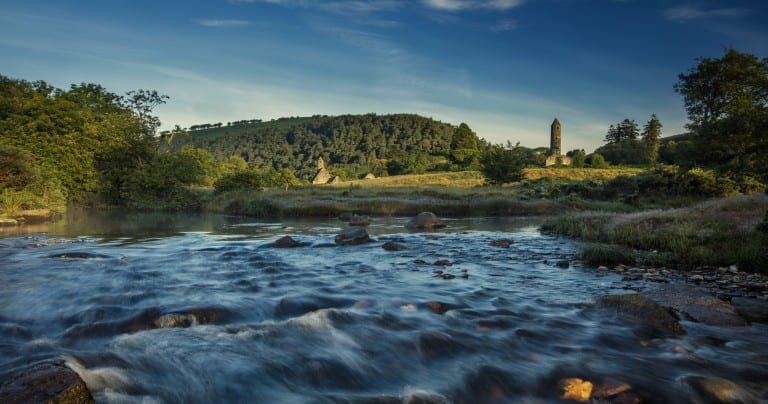 Let The Sugarloaf take your breath away
One of the most incredible things about climbing the Wicklow mountains is the fact that you are at once so near and so far from the hustle and bustle of Dublin city centre. While there are some spots that will afford you views right to the city and the coast, you will also feel miles away, especially in winter when the Sugar Loaf is covered in a thick blanket of snow.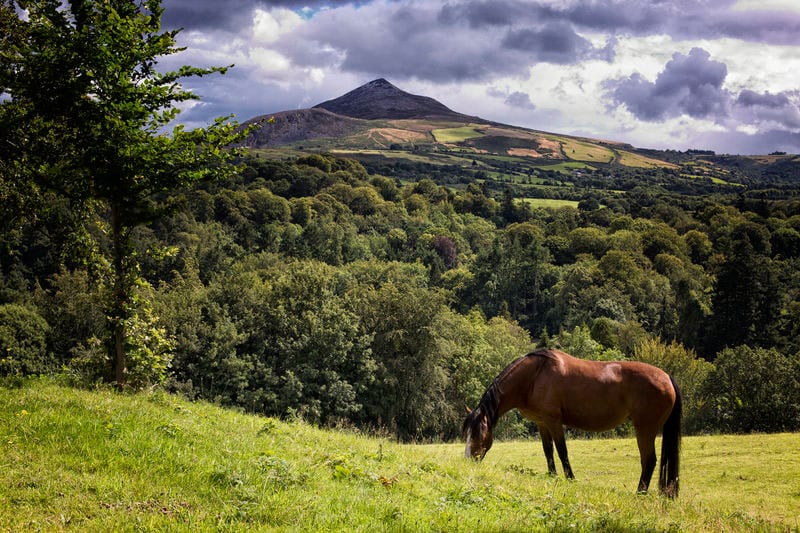 Ride a bike over the Wicklow Mountains
If you are feeling adventurous, nothing beats spending a few hours biking over the hills around Wicklow. You are guaranteed to make new friends, have an epic work out and see more of the mountains and views than you could ever see on foot. It is a pretty strenuous activity, however, so best left to those with a pretty good level of fitness!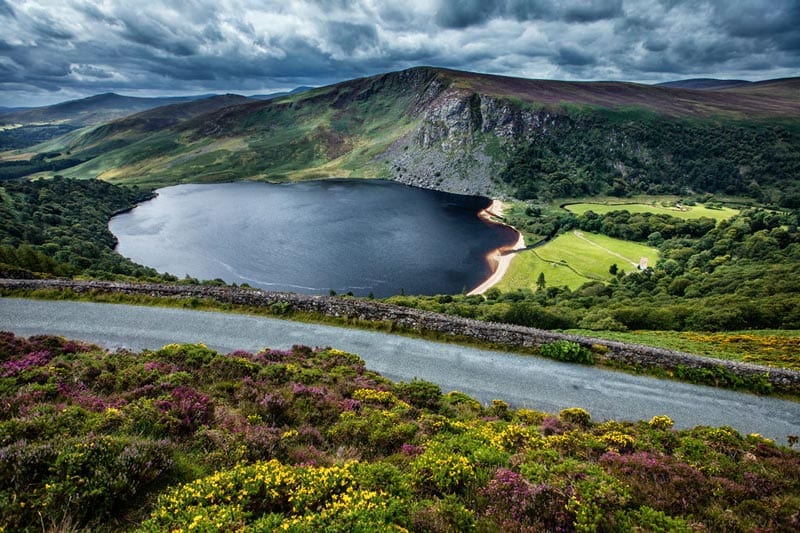 Get lost for a day on the Wicklow Way
If walking or hiking is more your cup of tea, one of the nicest ways to spend an afternoon is walking part of the Wicklow Way. The trail actually runs all the way from Dublin, through the mountains, and can be made into a week-long hiking and camping adventure, but most people are happy enough just to dedicate a few hours to this beautiful walkway.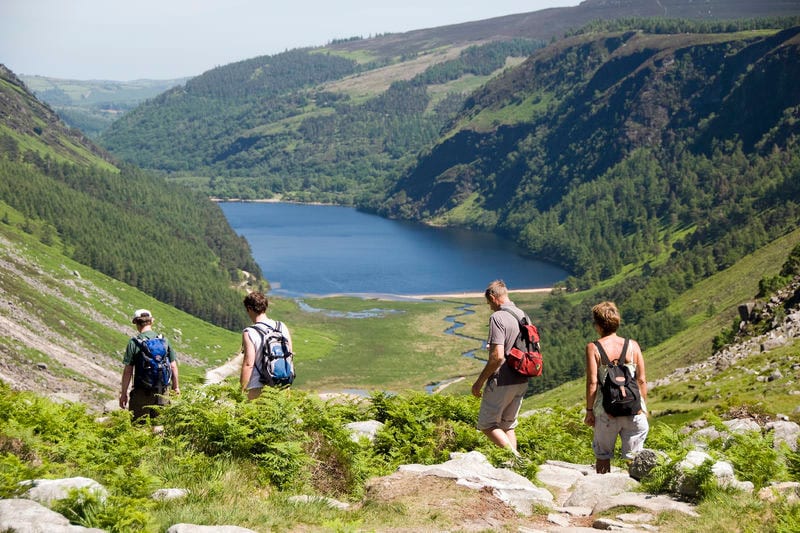 Stand in awe at Powerscourt Waterfall
Powerscourt waterfall is the highest waterfall in Ireland and one of the most spectacular. While us Irish live to complain about all the rain we get, that rain makes this waterfall pretty powerful all year round, so I guess we have one thing to be thankful for anyway. While in the area, you can also check out Powerscourt House and Gardens and stop off for lunch in Avoca village, a village that looks like it has been plucked straight out of the English countryside!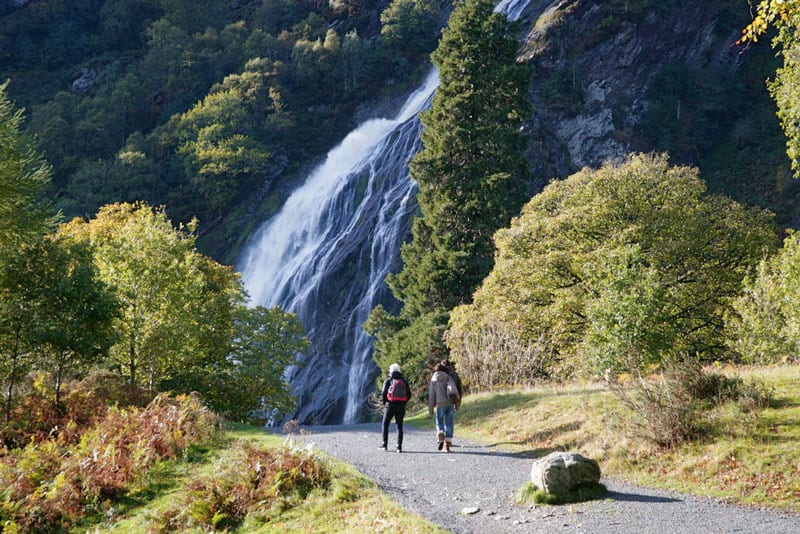 Spend an afternoon tasting beer in Kilkenny
One of the best ways to spend an afternoon in Kilkenny is tasting all the delicious beer on offer that has been brewed locally. From world famous Kilkenny cream ale and Smithwick's red ale to local craft beer such as O Hara's (which is actually made in neighbouring County Carlow), there are enough beers to keep you occupied for a few hours at least! To fully enjoy: visit Kilkenny in Christmas.
Treat yourself to lunch at Lanigan's Pub
Kilkenny is famous for being one of Ireland's most lively night spots, attracting just as many locals from around Ireland as it attracts tourists. While there are many great pubs to choose from, some dating back hundreds of years, Lanigans would be an obvious choice for us! The pub serves up great food, the craic is mighty and if you stay out long enough you might even be asked to dance by some friendly locals!
Wander down Kilkenny's Medieval Mile
As Kilkenny was once the medieval capital of Ireland, it is no wonder that there are still so many buildings of interest around the city. Some of the main highlights to check out on your mini tour of the city include Kilkenny Castle, The Hole in the Wall, Kyteler's Inn, Grace's Castle (now Kilkenny courthouse) and St Canice's Cathedral and Round Tower.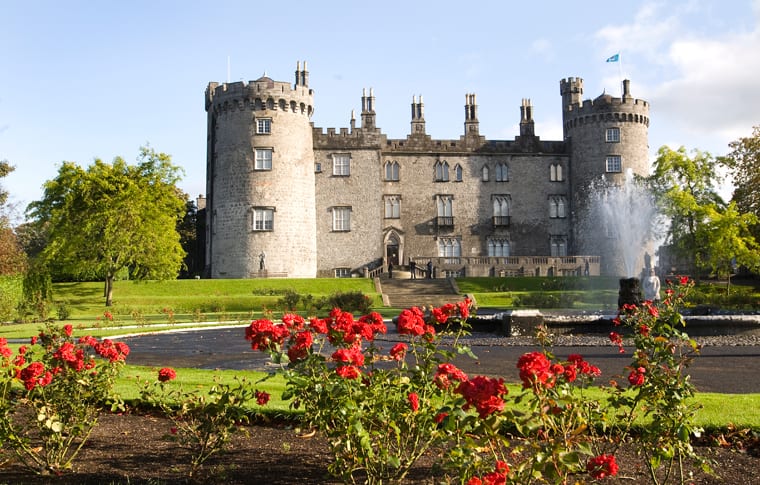 Relish the festival atmosphere
Our last reason to visit wonderful Kilkenny might well be the best reason of all. The city is in fact world famous for the many festivals it hosts throughout the year. So involved in the arts, it can often feel there is a festival atmosphere even when no festival is taking place. Some of the biggest festivals to keep in mind when planning your visit include the Cat Laughs Comedy Festival, Kilkenny Arts Festival and Kilkenny Roots Festival, all of which take place in the summer months.
If you're convinced by our appreciation of the many delights Wicklow and Kilkenny offer, be sure to visit experience it yourself. Another option to hop on our one day tour covering Glendalough, the Wicklow Mountains Kilkenny.