Cliffs Of Moher, Atlantic Edge Ocean Walk & Galway City Day Tour From Dublin
Lowest Price Guaranteed on this Site
All Admissions & Walking Tour Included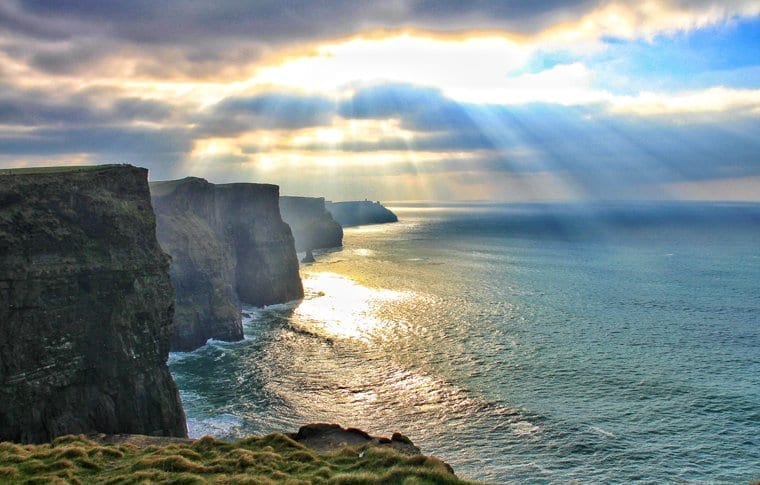 Visit the Cliffs of Moher - voted seventh most wonderful heritage site in the world by UNESCO.
Reviewed on TripAdvisor the best day tour in Ireland and Northern Europe 2023.
All admissions and guided walking tours (Galway City) included.
Travel along the Wild Atlantic Way Coast with imposing Cliffs, the Burren Lunar Landscape, wild birds from puffins to falcons and golden beaches.
Take in stunning views of the Aran Islands and Galway Bay home to dolphins and basking sharks.
Visit Galway, Ireland's 'most Irish' city take in the street performers and dance along to traditional Irish folk music with a guided walking tour.
Why Choose this Tour
Reviewed the number 1 tour company in Ireland every year between 2014 and 2023 with multi-year awards every year across Europe and rest of the world. Most recently reviewed as the best tour company in Northern Europe 2023.
We are the only operator to employ a separate driver and guide on all tours.
We guarantee the maximum time at featured attractions. For example, 2 hours at both the Cliffs of Moher and in Galway City.
Wild Rover Tours is the only tour company to offer free walking tours at attractions
We do not accept 'soft commission', meaning no time-wasting or low-interest stops for our customers.
Comfort breaks are built into the itinerary of the day.
Wild Rover Tours has the newest fleet of vehicles with unlimited 4G wifi on board.
We guarantee you the very best of customer service at all times. Once our customer you are always our valued customer.
Tour Details
Price:
Adult: €75.00
Child / Student (with valid ID) : €70.00
We apologise but tour is not suitable for children aged two and under.
Book 2 tours with our new BUNDLE and receive 10% off both tours, or 12.5% off if you book 3.
Payment:
Our payment gateway requires Strong Customer Authentication (SCA). If you are having difficulty with SCA you will need to contact your card issuer or bank.  Please note your reservation is not confirmed until you receive a booking confirmation via email. If you have not received a booking confirmation please contact us.
Availability:
Every day, all year round
Pickup:
6:55am at Hotel Riu Plaza The Gresham, 23 Upper O'Connell Street, Dublin D01 C3W7.
7:00am at Bus Stop, 33 College Green / Dame Street, Dublin 2, D02 DD76 (50 metres from the front gates of Trinity College overlooking the street fountain)
Drop Off:
7.45pm - 8:00 PM at D'Olier Street, near O´Connell Bridge, Dublin 2. (Guide will offer guidance)
Included:
Transport, guides and all admissions, including Cliffs of Moher Visitor Centre.
Not Included:
Lunch. You will have the opportunity to try delicious traditional cuisine on your tour.
About the Vehicle:
Luxury air-conditioned coaches with 4G WiFi
Cancellation Policy:
Full refund up to 24 hours cancellation notice in advance of the date of the tour. That is prior to 12.01am on the day before the tour date.
Cancellation notice must be given by email, if no cancellation notice is given, the refund policy is then at the discretion of the reservations department.
Explore the Wild West of Ireland!
Check out this video to see what you can expect on your Cliffs of Moher day trip from Dublin with Wild Rover Tours.
Cliffs of Moher
Enjoy a Virtual Reality Cliff Experience
Witness the Imposing Cliffs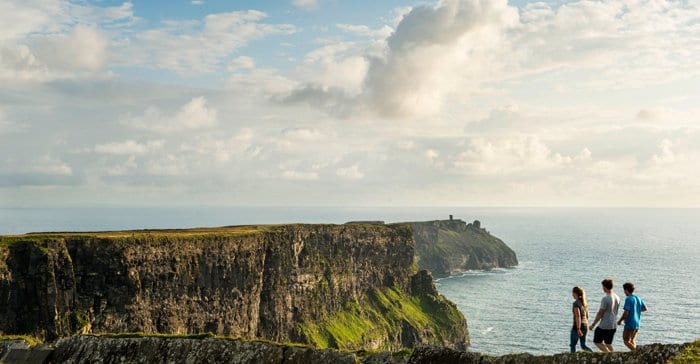 Departing at 6:55am and 7:00am (dependent on pick up location) your day tour to the Cliffs of Moher from Dublin will travel through Kildare and Limerick before arriving in County Clare. We will pass by Bunratty Castle, a 15th-century medieval Norman fortress, and on through Lahinch, a world famous surfing and golfing destination.
Arriving at the Cliffs of Moher at approximately 10:45am you will be struck by their enormity. The cliffs are 214m high at the highest point and run for 8 kilometres along the western seaboard of County Clare. The sheer height of the cliffs and the spectacular views are sure to leave a lasting impression. During your 2 hours stop at the cliffs, you can choose to Visit O'Brien's Tower, which stands proudly on a headland off these wonderful cliffs, and enjoy views of the Aran Islands and Galway Bay. You will have the opportunity to purchase light hot meals, packed lunch's, hot and cold drinks and enjoy them either indoors or outdoors at the Cliffs of Moher, The choice is yours.
Your tour includes a premium admittance ticket to The Atlantic Edge interpretive centre. Here you can see photographs, exhibits, displays and experiences that will add extra insight to the Cliffs of Moher. Continue the tour to The Ledge virtual reality cliff face adventure shown in the audiovisual theatre allowing you to experience life at the cliff face both above and below sea level.
Wild Atlantic Way and the Burren
Fauna & Folklore in National Park
Take in Incredible Seascapes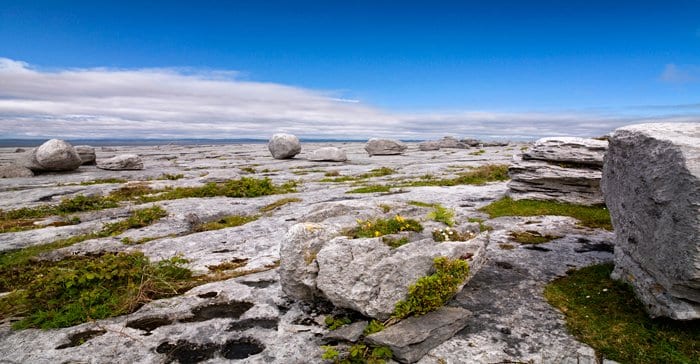 Departing from the Cliffs of Moher at 12:50pm, we continue our scenic journey along the Wild Atlantic Way to the Burren National Park. Here you can see 75% of Ireland's native flora as well as ancient monuments, including megalithic tombs (which are older than the pyramids!), fairy forts and famous Celtic crosses.
Travelling around the scenic Galway Bay, you will be treated to stunning ocean views and points of interest such as Blackhead Lighthouse, Dunguaire Castle and Kinvara fishing village. Storytellers at heart, our tour guides will unlock centuries worth of stories to keep you entertained.
Galway Day Tour
Guided Walking Tour of Galway
Listen to Irish Folk Music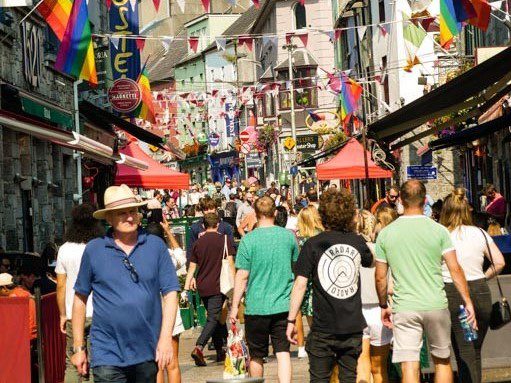 We arrive in Galway City between 2:45pm and 3:00pm. The city of the tribes, Galway is Ireland's cultural capital. Stretch your legs during our 30 minute guided walking tour of this medieval city. After the walking tour (participation is optional), you are free to explore the cobblestoned pedestrian streets that alive with music and street entertainers. Discover the hidden gems of Galway's speciality shops, boutiques and cafes. Departing Galway at 4:45pm-5:00pm, you can now sit back and relax as we begin our journey back to Dublin with wonderful memories to share.
Should you want to overnight in Galway City please contact the office so that it is noted for the guide on tour and also to check if we can facilitate a return to Dublin at a later date.
What Your Trip Has In Store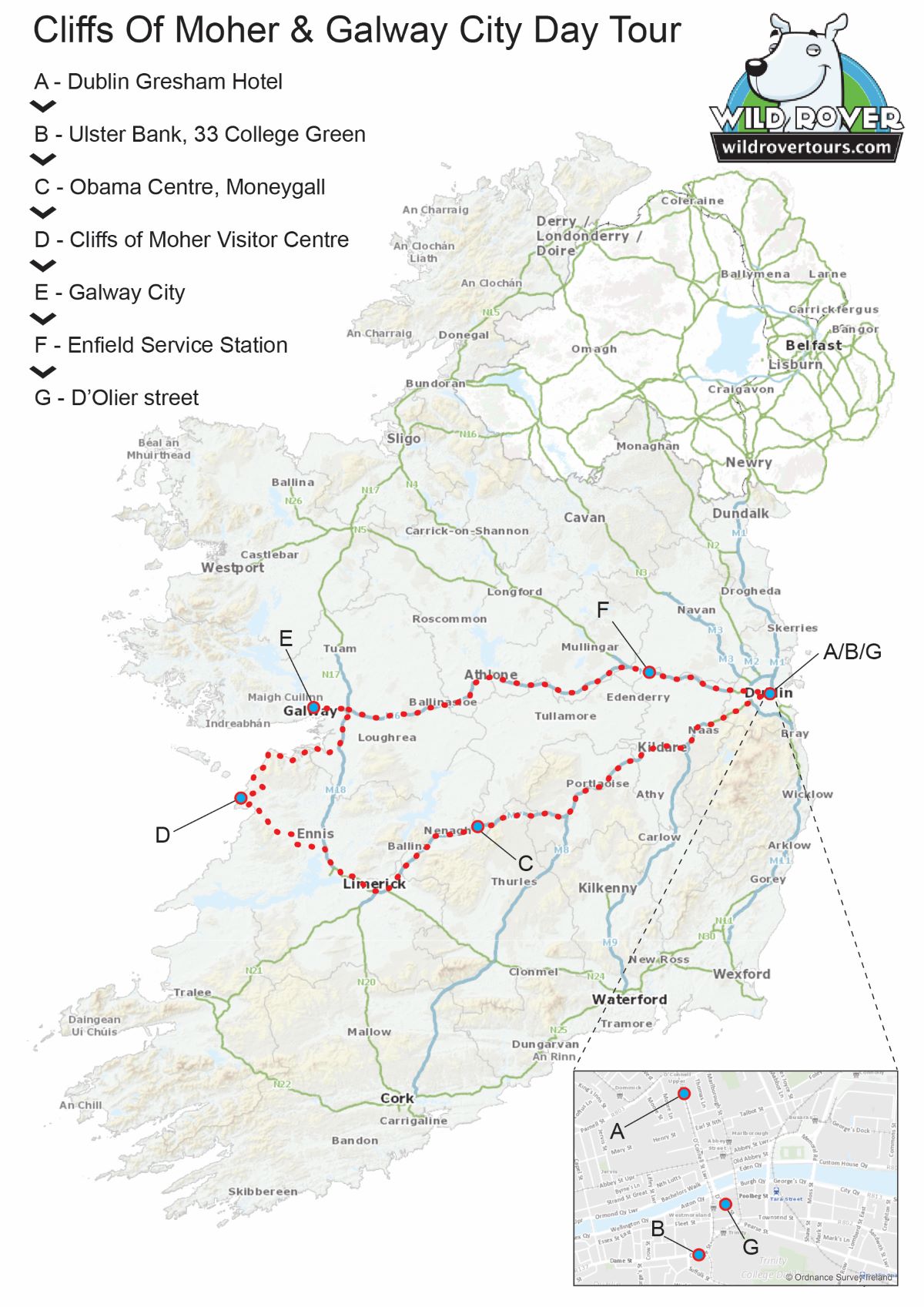 Special Offers - Up to 12.5% Off
Book a bundle of 2 tours and receive 10% off both tours, or receive 12.5 % off if you book 3 tours.