Giants Causeway, Belfast City & Carrick A Rede Rope Bridge Day Tour from Dublin
Northern Ireland Highlights
Amazing Photo Opportunities
Transport & All Admissions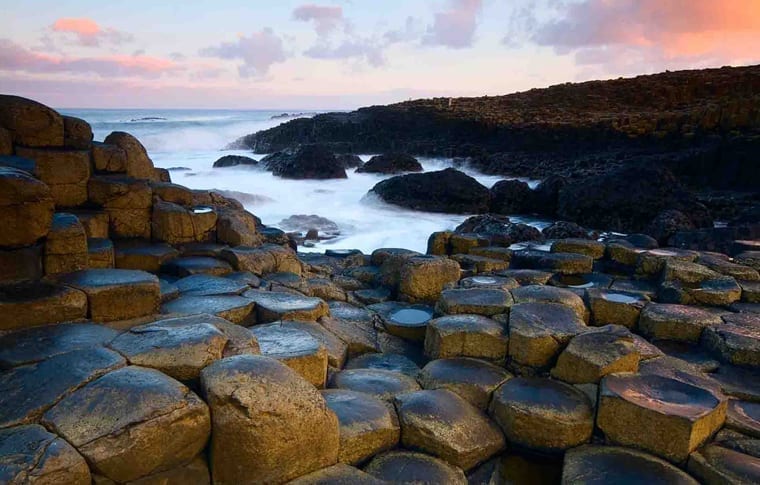 Voted 2nd Best Day Trip in The World for Cultural Experience - TripAdvisor Travelers' Choice 2020.
Experience the amazing highlights of Northern Ireland on this day tour to the Giant's Causeway from Dublin.
Stop in Belfast and learn more about the city's rich history on a Black Taxi Tour or alternatively enjoy a Titanic Experience Tour.
Enjoy spectacular scenery as we follow the Antrim Coastal Drive.
Visit Giant's Causeway - UNESCO World Heritage Site, one of the most geographically diverse places in the world
Finally, put on your bravest face to cross the Carrick-a-Rede bridge a 30-metre deep and 20-metre wide chasm, if you dare!
Why Choose this Tour
5 Star Trip Advisor Rating
Attraction Entrance is included – we are the only tour company to offer this as well as a dedicated tour guide and driver
Tour Details
Price:
Adult: €65.00
Student: €65.00
Child (under 12): €60.00
Special Offer - Family Tickets. 10% Discount on Individual Prices.
We apologise but we cannot accept reservations for babies under 2 years of age.
Availability:
Every day, all year round
Pickup:
7:00am at The Starbucks Cafe on Dame Street / 1 College Green
7:05am at Dublin Bus Office, 59 O'Connell Street, Dublin 1
Drop Off:
8:30pm at Old Cleary's Store on O'Connell Street
INCLUDED:
Admissions to all attractions including Giant's Causeway Visitor Experience, Black Taxi Tour/ Titanic Experience and Carrick-a-Rede Rope Bridge. Transport and guides.
Note: Other tour companies do not include admission to attractions.
NOT INCLUDED:
Lunch. You will have the opportunity to try delicious traditional cuisine on your tour.
ABOUT THE VEHICLE:
Luxury air-conditioned coaches with 4G WiFi.
CANCELLATION POLICY:
Full refund up to 24 hours cancellation notice in advance of the date of the tour. That is prior to 12.01am on the day before the tour date.
Cancellation notice must be given by email, if no cancellation notice is given, the refund policy is then at the discretion of the reservations department.
GIANT'S CAUSEWAY TOUR VIDEO
Check out this video to see what you can expect on your Wild Rover Tours day trip from Dublin to Giant's Causeway, Belfast and Carrick-a-Rede.
BELFAST: TITANIC CENTRE OR BLACK TAXI TOUR
Learn about Ireland's Turbulent Past
Visit Belfast Titanic Quarter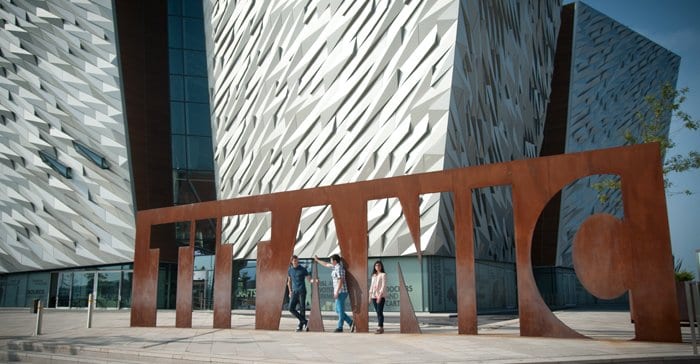 9:30am Arrival in Belfast. You can choose to enjoy the world-famous Black Taxi Tour of Belfast where your local guide will talk you through Belfast's fascinating political history or visit the state of the art Titanic Visitor Experience.
Option One: Visit and sign the Peace Line and join the list of world celebrities including Bill Clinton and the Dalai Lama who have signed their name to the wall. Walk along this huge wall which divides the two religious/national communities of east Belfast. The political murals, some of which are the most spectacular in the world, reflect a harrowing and tragic chapter in the history of Northern Ireland. Your personal local guide will relate to you their personal and family experiences of life in Belfast during The Troubles, some of the stories you quite simply won't believe.
Option Two: Your alternative to a Black Taxi Tour is to visit the Belfast Titanic quarter and the state of the art Titanic Visitor Experience. Here you can experience the entire life and story of the Titanic, from her fateful maiden voyage to her eventful discovery on the seabed of the North Atlantic. Learn about the origins, construction, launch and history of the Titanic. The experience contains interactive features so you can truly explore the Titanic story in an insightful light. The journey will take you beyond the aftermath of the sinking to the later discovery of the ship. This tour will also take you to the present day with a tour of the live undersea exploration centre.
If some of your family wish to visit one attraction and others wish to do the other, that's perfectly alright as we will regroup before we depart for the Giant's Causeway. Depart Belfast at 11:50am.
GIANT'S CAUSEWAY TOUR
Game of Thrones Filming Location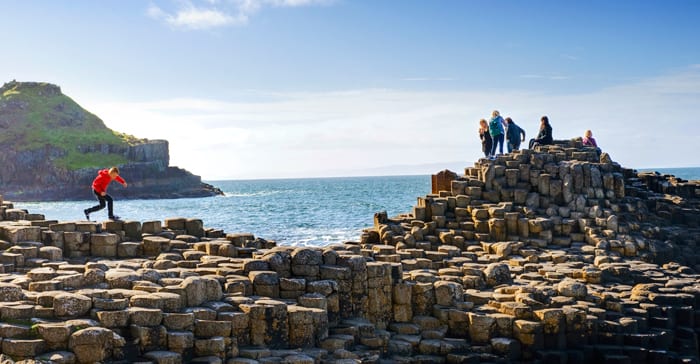 Departing Belfast, we hit the road and into the heart of Northern Ireland making our way to the spectacular Irish coast. We stop at the remarkably unique Dunluce Castle located on the edge of the north Atlantic coast and used as a filming location for Game of Thrones – an amazing photo opportunity.
Following a route known as the Antrim Coastal Drive we pass spectacular scenery, taking us through the village of Bushmills; best known for its whiskey distillery.
We'll arrive at The Giant's Causeway at 1:20pm. This UNESCO World Heritage-listed site was created more than 60 million years ago after a series of volcanic eruptions. The Causeway is best known for its distinctive rock formations that span nearly 18 miles (29 kms) of coastline. During our 2 hour stay you can see formations such as the Wishing Chair, the Giant's Boot and Organ, enjoy lunch with a choice of providers on site and learn about the legend of Finn MacCool.
CARRICK A REDE ROPE BRIDGE
Dare to cross this 100 ft high rope bridge
Get Your Perfect Instagram Photo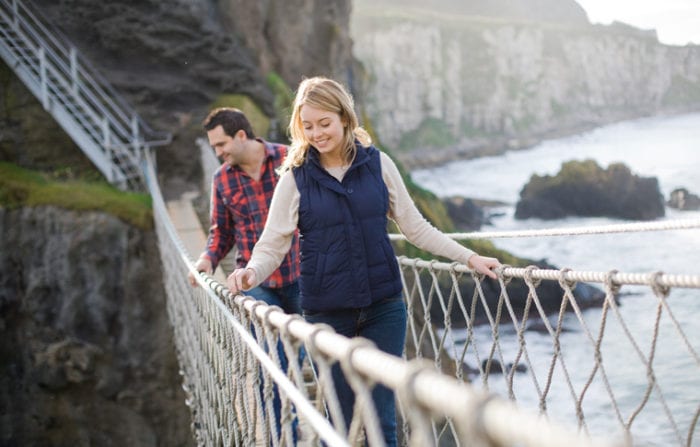 At 3:25pm, we continue our day trip to Northern Ireland and head towards to the Carrick-a-Rede Rope Bridge. This spectacular attraction is a must when visiting the North Coast. Walk across this world-famous rope bridge which traverses a 30 metre deep and 20-metre wide chasm – that is if you're brave enough!
Now sit back and enjoy the relaxing drive back to Dublin, stopping off just after Belfast for a 20 minutes rest stop before arriving back to Dublin at 8:30pm.
What Your Trip Has In Store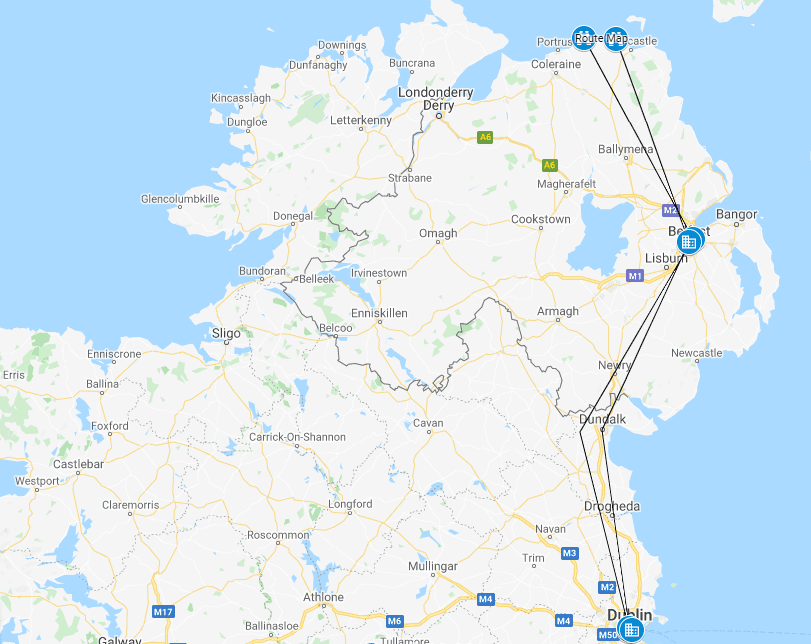 Book another wild rover day tour & save 10% off your second tour
Please note that you'll need to book both tours at the same time to redeem the discount.