Looking for amazing day trips to Belfast? Check out the Titanic Experience Tour from Dublin.
The Titanic experience is one of the most popular stops on our Northern Ireland Highlights tour. Voted the #1 day tour in Ireland in 2020. Find out more about what to expect on this Titanic day tour.
Titanic Experience Tour
---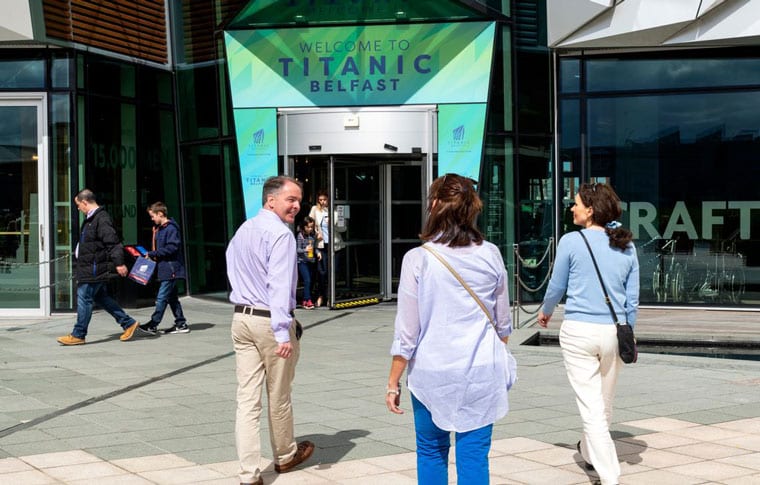 A new dawn has come to the north of Ireland. Tourists from around the world now seek out wonder and excitement in Belfast. No visit to the area should go without a tour of the Titanic Experience, voted "World's Leading Tourist Attraction' at the prestigious World Travel Awards 2016!
The Titanic Experience Tour allows you explore the origins of this tragic and legendary ship along with its passengers and crew. This tour is included in as part of Wild Rover Tours award winning Northern Ireland Highlights day trip. All entrance fees are included, access to the six-story building featuring nine interpretive galleries, full-scale reproductions, and the opportunity to walk in the shoes of those who built, served, and took passage on the ill-fated liner.
One of the most popular features of the tour allows visitors to experience the Shipyard Ride. This electronic dark ride provides an exciting and informative trip through the experience of constructing mighty passenger liners such as Titanic and her sister ships. Visitors can also board and learn more about SS Nomadic, the last White Star vessel in existence.
Experiencing our Titanic Day Tour and the Titanic Experience does more than describe the history of one legendary ship. It provides a glimpse into a fascinating culture and a world long past through the lens of those whose lives revolved around or were otherwise touched by this ship and its horrific end.
Giant's Causeway
---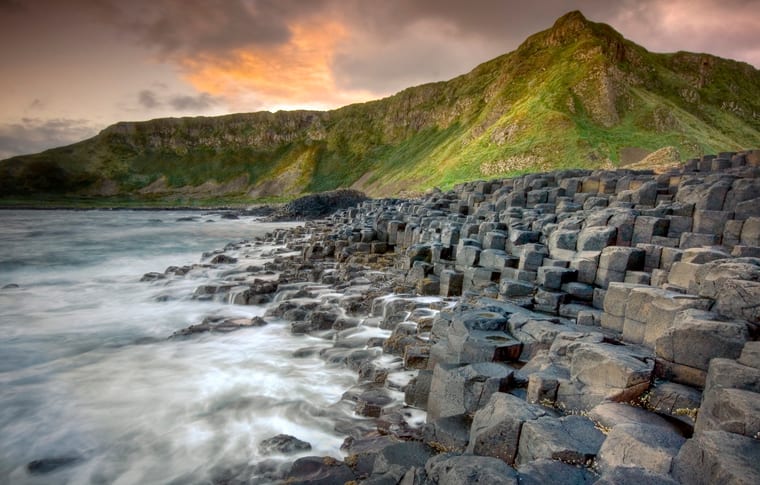 The day trip from Dublin to Belfast also brings visitors face to face with sites renowned worldwide for their unique beauty and provides a glimpse of the stunning scenery offered throughout our island.
One of the most popular stops on our Day tour to Northern Ireland from Dublin is also the most visited natural site in the north of the island, Giant's Causeway. Volcanic activity tens of millions of years ago produced a unique field of flat-topped and ruggedly symmetrical stones lying between craggy peaks and the roiling sea. UNESCO has ranked Giant's Causeway among its world heritage sites and many consider it one of the eight natural wonders of the world.
From unique stones to stunningly vibrant shrubs, the tour takes visitors next to Dark Hedges. These centuries-old hedges, planted by the House of Stuart to line a road leading up to Gracehill House, originally served to remind visitors of the family owners of that mansion. Over the years, they have extended their branches across the road to make a unique and almost haunting visage of dynamic plantlife.  No one comes through Ballymoney without snapping a picture of this world-renowned natural phenomenon.
This tour also includes the option to explore Belfast's famous peace wall, brave the crossing of the Carrick-A-Rede rope bridge, and other exciting sights on this award winning day trip to Northern Ireland and Belfast from Dublin.
Why Choose Wild Rover Tours?
---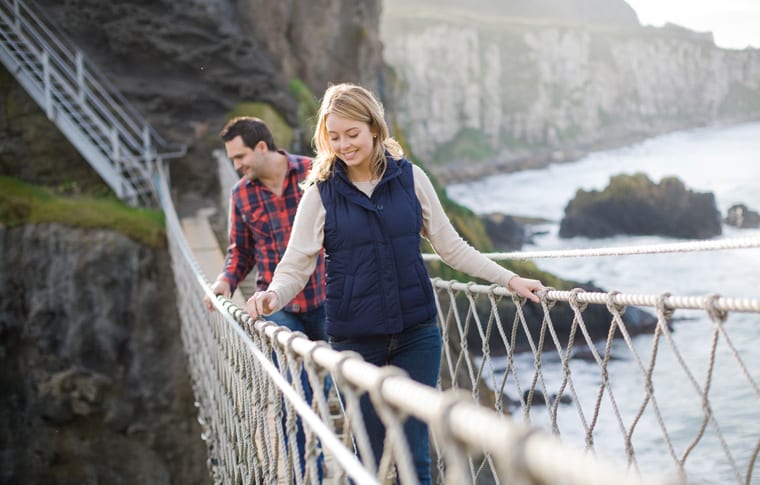 Wild Rover Tours is a family owned, Dublin based award winning day trip operator provider who takes pride in unlocking Ireland's majestic beauty, ancient traditions, and fascinating heritage to visitors from around the globe. Our dedication for providing the best possible service includes hiring local guides who share both a knowledge and a passion for telling Ireland's stories. We have been voted Ireland's number one day trip operator for 6 years in a row!
Reach out today to find out more about the exciting day trips from Dublin available through Wild Rover Tours. Our friendly and professional staff are ready to help you plan your next exciting excursion. Our contact page includes phone numbers, email addresses, and a query form to help you get started.
Let Wild Rover Tours be part of your next amazing Ireland adventure.