Sure, Paris may have claimed the title of "City of Love" but don't dismiss Dublin so fast. Our fair city, home to saints and scholars, has a lot more to offer the romantic than first meets the eye. Whether you are looking for a special place for Valentine's Day or simply an unusual romantic spot to bring your better half while on holiday in Ireland, here are 7 romantic dates in Dublin.
1. Wilde walks through Dublin's parks
Oscar Wilde once famously wrote, "Women are meant to be loved, not understood." While we may never understand Oscar or most women, an evening stroll through St Stephen's Green park can certainly do no harm. Take some time to feed the ducks, admire the years of work that has gone into fine-tuning each and every flower bed and of the weather is fine then consider a picnic on the grass – a firm favourite with Dubliners in the summer season. When done, head on over to the nearby Merrion Square Gardens to pay tribute to Mr Wilde himself.
2. A visit to St Valentine
Here's something you might now know! The White Friar Street Church in Dublin City Centre is, in fact, the final resting place of St Valentine.  The relics of the saint were brought to Ireland having been gifted to Irish Carmelite John Spratt by Pope Gregory XVI. Couples can visit the relics inside of the White Friar Church in the hope that the saint will bless their relationship with good fortune on their relationship. On February 14th each year there is an official "blessing of the rings" inside of the church and many couples have been known to get engaged here.
3. Romantic restaurants in Dublin: Dinner at The Port House
While quite low key and reasonably priced, The Port House on South William Street is one of the most romantic restaurants in Dublin. The cave-like restaurant with lots of small nooks and crannies to hide away in is beautifully decorated and lit up using tall wax candles in old wine bottles. While a candle-lit dinner is nothing new, this restaurant serves up some of the best Spanish Tapas in Dublin – and everyone knows tapas were made to share! Some smoking hot patatas bravas, a big serving of paella, calming Spanish tones playing in the background and a jug of delicious sangria for two – the recipe for a perfect evening?
the port house Dublin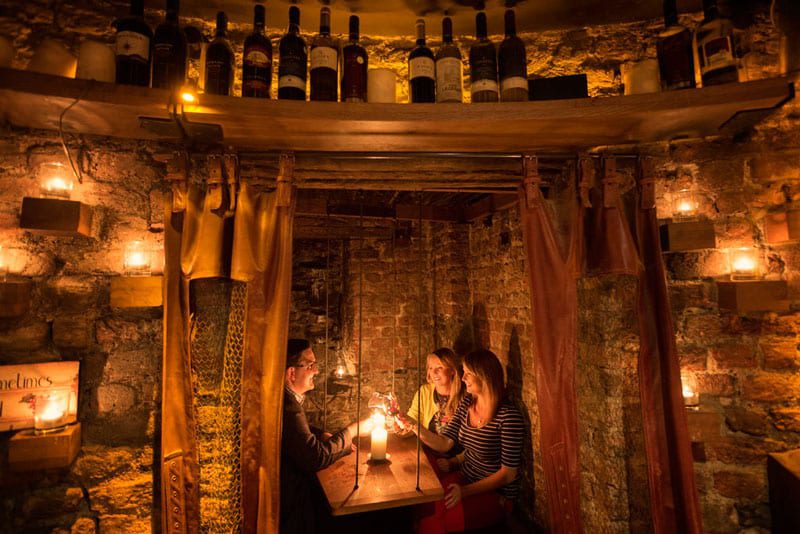 4. A stroll through Love Lane
Located in the atmospheric, and often wild, district of Temple Bar, Love Lane is a real treat to discover, especially if by accident. As with everything in Temple Bar, Love Lane is nestled between vintage clothes shops, trendy eateries and pubs full of tourists listening to anything but Irish music! The lane itself was designed by local artist Anna Doran and consists of layers of brightly painted columns and a "love mural" with messages of love on small ceramic squares. A fun place for a photo shoot if nothing else! While the art projects do change, the overall aim of the project is to bring art out onto the street in a more structured way.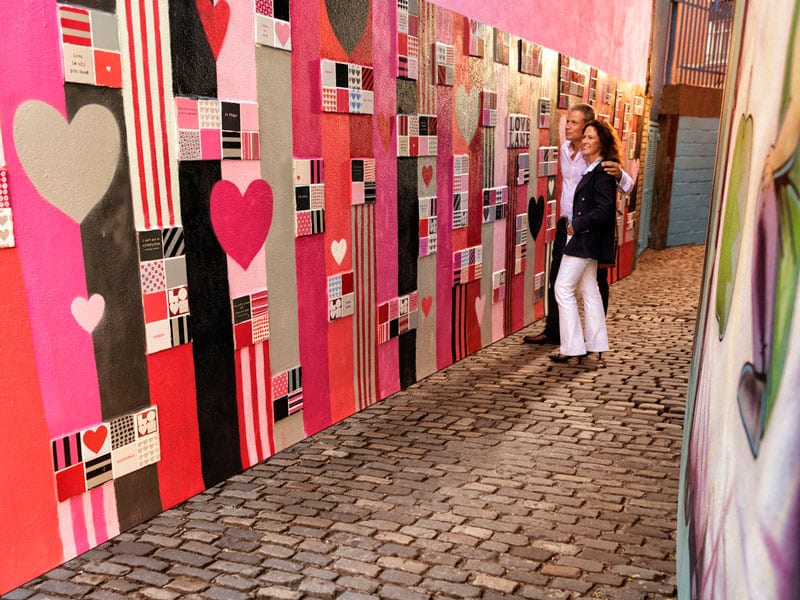 5. A bike made for two
What could be more romantic that touring the largest city park in Europe on a tandem bike? Head to Phoenix Park and rent one of their fun tandems at the main entrance. On your tour of the park you can stop off at Aras an Uachtaráin, the palatial home of the President of Ireland, Dublin Zoo where you might be lucky enough to see some adorable baby animals (feeling broody?!) and finish off your romantic bike ride for two in the super sweet Tea Rooms in the middle of the park that serve up a mean cup of Lion's Tea as well some delicious homemade cakes and tarts. A match made in heaven!

6. A walk on Dun Laoghaire Pier
While many parts of Dublin can be considered romantic, from the parks and famous statues to nighttime stroll along the River Liffey, nothing is as special as a calming walk out to Dun Laoghaire Pier. The train ride alone is worth the trip, passing by some of Dublin's most picturesque coastline and most sought after addresses. Once in Dun Laoghaire be sure to stop off at the much-loved Teddy's Ice-cream Shop on the pier where you will buy the best 99 cone in Dublin! You can hang around to watch sailing races, or simply watch the waves crash onto the shore as a local with a worn out accordion serenades you with a tune or two.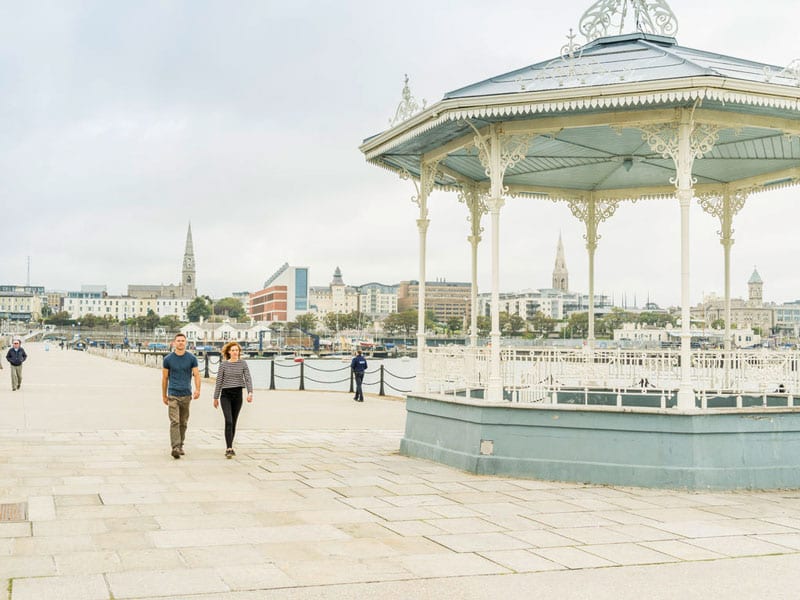 7. Night at the movies
If a night at the movies sounds like the perfect date, then whisk your loved one away to one of two art-house cinemas in Dublin city centre. The Lighthouse Cinema, which is located in Smithfield, is very colourfully decorated and plays both new and old movies. You might even get lucky and be in town on one their famous old-school movie marathon nights. Your second choice is paying a visit to the Irish Film Institute in Tempe Bar, perfect if you are keen to watch a home-grown movie. There's also a small restaurant and bar attached so you can have a quiet dinner for two before the movie and bring the drinks into the cinema with you. Yes, it's allowed!