Ennis, nestled in the breathtaking County Clare, is a town of unrivalled beauty and captivating allure. But what truly sets this gem apart is its renowned traditional Irish music scene, making it an absolute paradise for music enthusiasts. Immerse yourself in the rich tapestry of Irish melodies and let the enchanting rhythm of Ennis steal your heart.
Rooted in a storied history spanning 6,000 years, Ennis exudes an irresistible charm that resonates with both locals and visitors alike. With a population of around 32,000, this vibrant town is synonymous with its traditional music culture and warm, welcoming pubs. As the largest town in County Clare, Ennis offers an array of delightful experiences for any avid traveler.
1. Immerse Yourself in the Vibrant Traditional Music Scene
Embark on an exhilarating journey through the heart of Ennis, where every corner resonates with the soul-stirring notes of traditional Irish music. Explore the town's bustling streets and discover the entire canon of Irish melodies, available in various forms, from timeless recordings to meticulously preserved sheet music. To delve deeper into the music and history of Ennis, don't miss the enlightening Ennis Town Traditional Music Tour by Wild Rover Tours.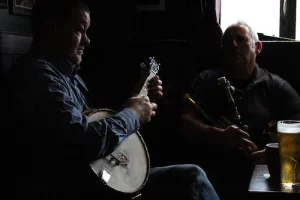 2. Indulge in Culinary Delights and Quench Your Thirst for Tradition
 Ennis has much more to offer beyond its melodious charm. Delight your taste buds with an unforgettable culinary adventure. Wander through the lively streets, where antique stores beckon, and charming cafes and bistros emit mouthwatering aromas. Experience the magic of locally sourced ingredients transformed into delectable homecooked meals. And what better way to savor the flavors than by pairing your feast with a pint or two of traditional Irish music in a lively pub? Embark on a delightful pub-hopping escapade and let the contagious beats of Irish music guide your every step. Preachers Pub and Brogans Bar and Restaurant are just a few of the captivating venues you won't want to miss.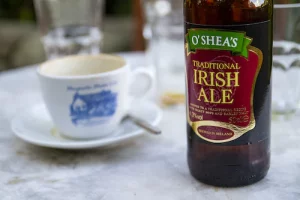 3. Step Back in Time at Ennis Friary: A Journey Through Medieval Marvels
 For history enthusiasts, a visit to Ennis Friary is an absolute must. This medieval Franciscan friary, founded by the O'Briens of Thomond, is steeped in captivating tales of old. Marvel at the extraordinary collection of 15th and 16th-century sculptures, meticulously crafted from native hard limestone. These timeless works of art transport you to a bygone era, where devotion and craftsmanship intertwined. The sacristy, adorned with elegant rib cage ceilings, is a sight not to be missed, while an image of Christ with chained hands adorns the arch, symbolizing the resilience of Catholic theology in the face of the Reformation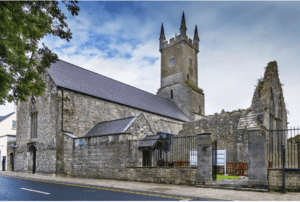 4. Experience the Bounty of Ennis Farmers Market
For a taste of local bounty, venture into the renowned Ennis Farmers Market. Here, a cornucopia of delights awaits, featuring a dazzling array of local, organic, and free-range produce. Indulge in freshly baked goods, creamy country butter, tantalizing terrines, vibrant wheatgrass, and wild garlic pesto. Immerse yourself in the flavors of County Clare, as each stall proudly presents products sourced within a 30-mile radius of the market. Every Friday from 8 am until 2 pm, this vibrant market transforms Ennis into a haven for food enthusiasts.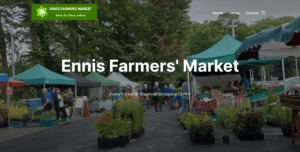 5.Unleash Your Cultural Spirit at Glor Arts Centre: Where Creativity Thrives
Finally, for a dose of cultural enrichment, make your way to the Glor Arts Centre. Vibrant and pulsating with creativity, Glor serves as the beating heart of arts and culture in Ennis and the wider mid-west region. Prepare to be enthralled by an eclectic program of theater, music, dance, visual arts, film screenings, and immersive workshops. Collaborating with talented artists, promoters, and local festivals, Glor celebrates the diversity of talent, both national and international. If you yearn for a truly transformative artistic experience, Glor Arts Centre is an essential.