If you're planning your trip to Ireland, there are a few select places that simply must make it onto your bucket list. The Burren National Park in County Clare is one those unique places. The area is said to resemble the surface of the moon. Everyone who travels here agrees that it is other-worldly. Easily accessible on a day trip from Dublin or Galway, here are 7 great reasons to visit the Burren on your trip to Ireland.
1. Admire some of Ireland's most beautiful landscapes
The Burren is famous for having one of the most unique and beautiful landscapes in Ireland. While the rest of the Emerald Isle is known for its shades of green, the Burren National Park is known for its various shades of grey. Whether you are walking, cycling, driving or touring by bus, you will feel like you have been transported to the moon. You will see long, flat slabs of rock everywhere you look, huge boulders and what looks like steps down into the ocean. The Burren will bring everything you learned in Geography class to life!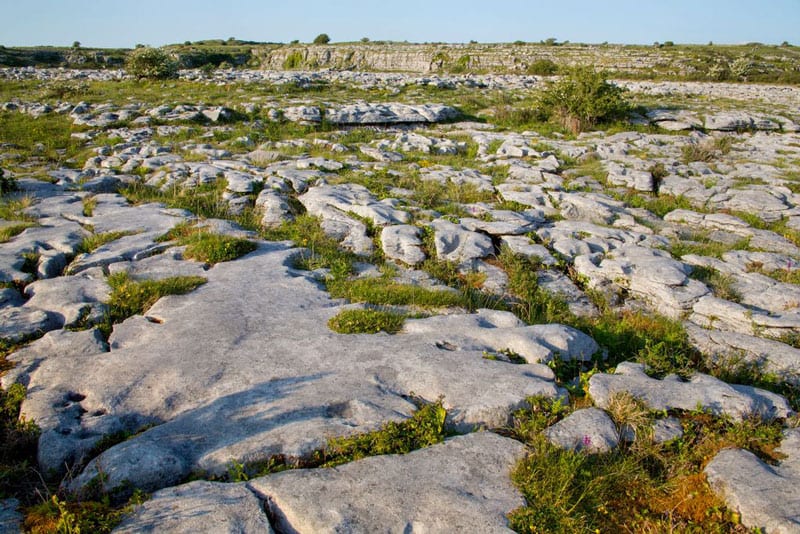 2. Stop off in the lively village of Liscannor
The small village of Liscannor, just a few kilometres from the Burren National Park is famous for having the highest number of pubs per person in Ireland…1 pub for every 26 people! Be sure to stop off for a pint of Guinness and maybe even some nice pub grub – everyone knows that pubs in Ireland serve the best locally sourced food! If you're lucky there may even be a live music session happening while you're there – with this part of the country being famous for its impromptu sing songs.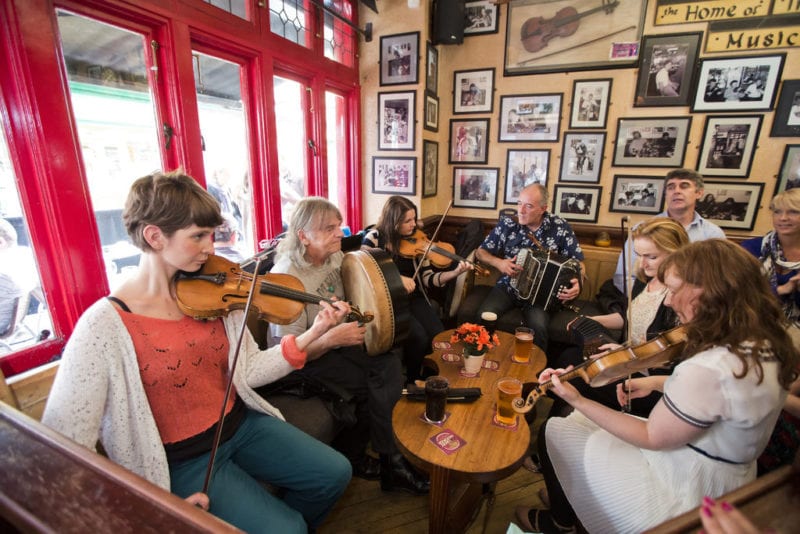 3. A short drive to The Cliffs of Moher
The Burren is located just a short drive from Ireland's most visited natural tourist attraction – The Cliffs Of Moher. No trip to Ireland would be complete without visiting these spectacular cliffs, some of the most recognizable in Ireland and incredible to experience up close regardless of the weather! Be sure to do the cliff walk to view these mighty cliffs from all angles – just don't get too close as it can get horribly windy any time of year.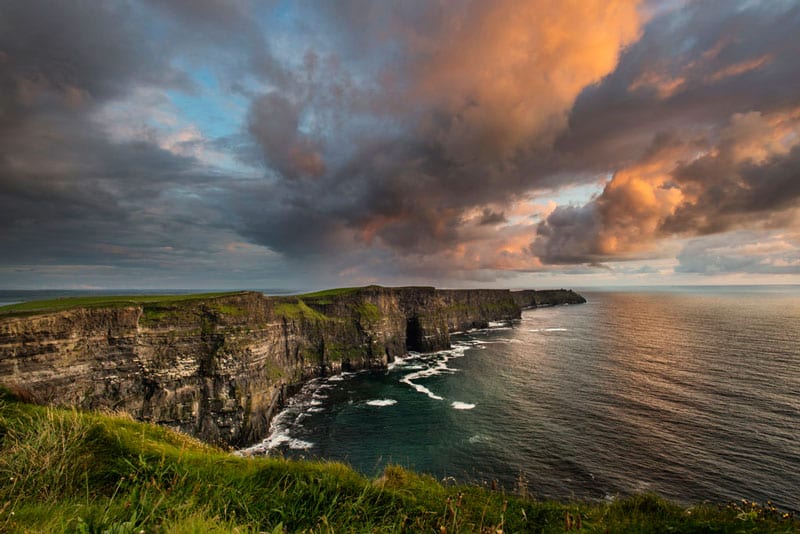 4. The Burren National Park is home to one of Ireland's top walks
If you are feeling adventurous, and have the time, walk to the top of Mullaghmore (otherwise known as Pancake Mountain) and take in the spectacular views on one of Ireland's top walks. You will pass unusual plants and shrubs, have to climb over classic stone walls famous in the West of Ireland and will have your breath stolen from you when you reach the peak and see the view that greets you.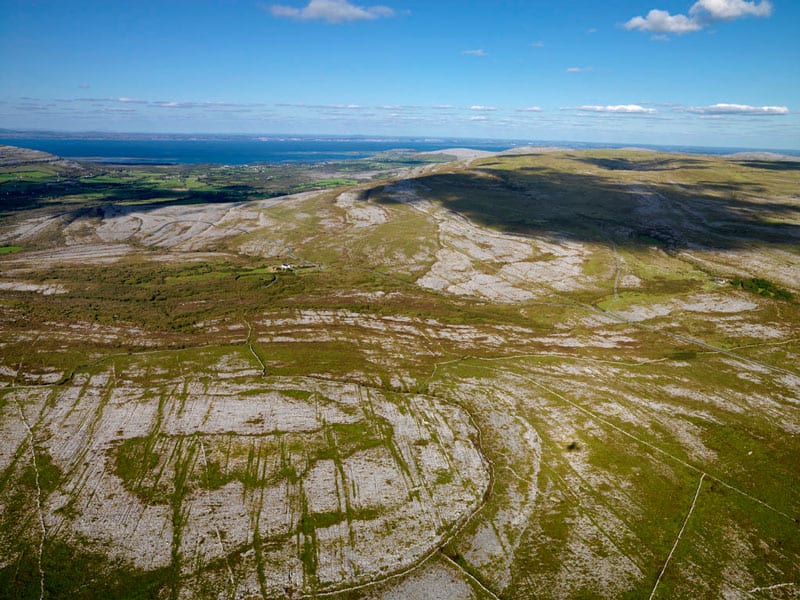 5. A foodie haven
One might wonder how a part of Ireland where nothing grows could possibly be a foodie paradise, but this part of County Clare is well known for its award-winning artisans. Be it indulging in some locally made ice-cream or tasting some locally made chocolate (with unusual flavours such as seaweed and chilli!) – you won't go hungry while visiting the Burren.
6. Experience the charm of Finavarra
Finavarra is a charming town along the coast where they say time has stood still. If you want a taste of the Aran Islands or just to see what life might be like on a rural Irish
island, Finavarra is the closest you will get without actually having to take a boat. Rural life, farming and fishing are what's important here – and it's a chance to get a taste of Ireland that time forgot.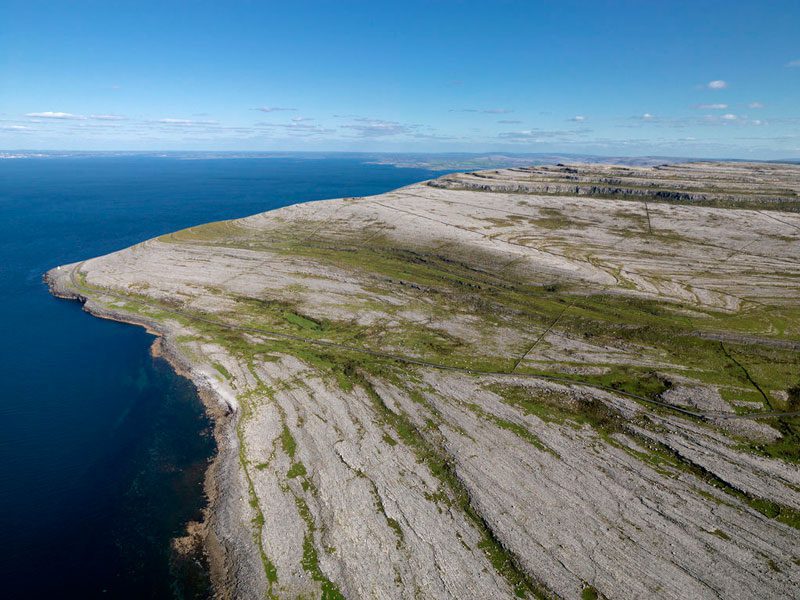 7. Part of the Wild Atlantic Way
One obvious reason to visit The Burren is that it is situated along the breathtaking Wild Atlantic Way, now listed as one of the best coastal drives in the world. Whether you start up north in Donegal, down south in Cork and make your way up or just drive a small part of it from Galway to The Burren, prepare to have your breath taken away by the beauty of this rugged coastline. Be it some of Europe's highest sea cliffs, gorgeous white sand beaches and turquoise waters, watching big-name surfers catch massive waves in Lahinch or exploring abandoned towers and castles overlooking the ocean – driving the Wild Atlantic Way is an experience never to be forgotten.
If you are planning a trip to Ireland, why not book a day tour from Dublin to the Wild Atlantic Way?