It is not surprising that Wicklow is known as the 'Garden of Ireland'. It is steeped in enough natural beauty to feed anyone's outdoor curiosity, regardless of how active or adventurous you may be.
Situated just south of Dublin it is home to the Wicklow Mountains and the Wicklow Mountains National Park. At 20,483 hectares it is Ireland's largest National Park. County Wicklow is a playground for outdoor adventurers. Spending time on a Wicklow Mountains tour is a must at some stage, whether on a day trip from Dublin, a weekend or an entire week. For somewhere that is so close to the hustle and bustle of the capital, it is the most tranquil escape. Here is our pick of the 5 best things to do in the Wicklow Mountains: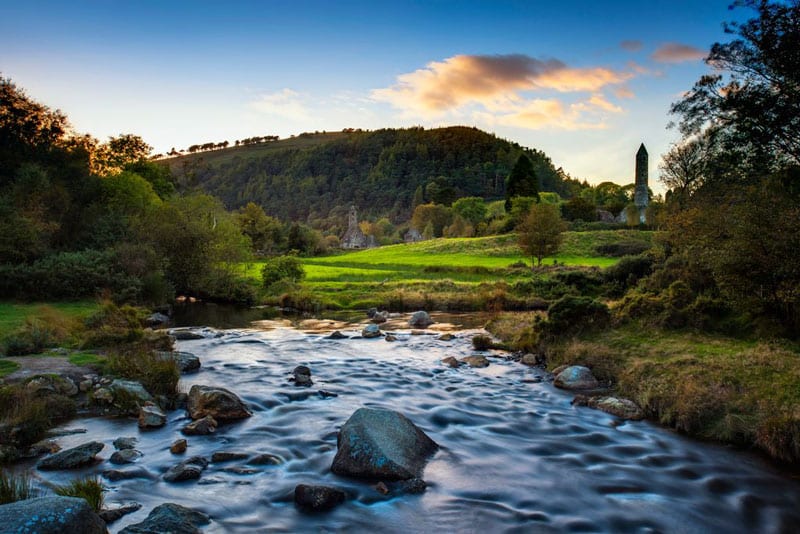 Camping at Lugnaquilla
The highest point of the Wicklow Mountains is Lugnaquilla, a spot that gives stunning panoramic views of the area. Camping and hiking in Lughnaquilla make for a great escape from Dublin, and it's also a great place to take envy-inducing photos for your Instagram while surrounded by stunning scenery. While camping in the depths of winter may not be a suitable option, a trip here in the spring or summer months is a must.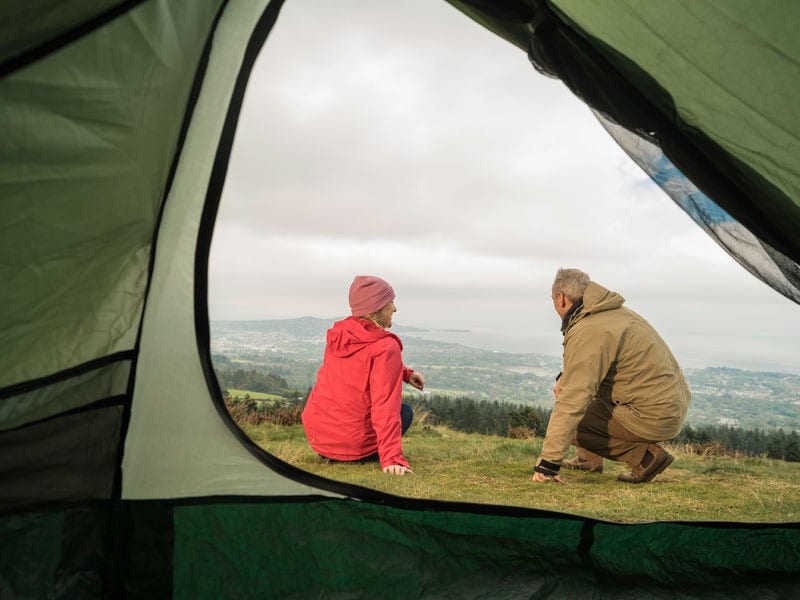 Explore Powerscourt
One of the easiest and most scenic things to do in Wicklow is to stroll through Powerscourt Gardens and up the stunning Powerscourt Waterfall. It is a wonderful family escape to stretch your legs on a Sunday afternoon. Situated only a few minutes from Enniskerry on the outskirts of Dublin, Powerscourt is also a great place to treat yourself to some delicious artisan cooking at Avoca, a cafe loved by both locals and tourists from all over Ireland.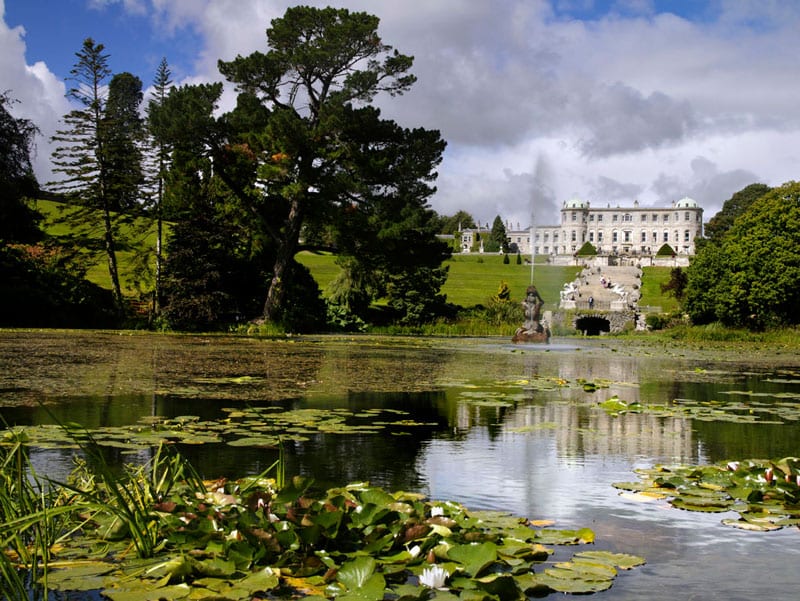 Fall in love with Glendalough and the Guinness Lake
Glendalough is quite possibly the most visited place in County Wicklow and it's easy to see why. Breathtakingly beautiful regardless of the weather, Glendalough provides a huge selection of walks and trails, all with stunning scenery. This is one destination that has to be seen to be believed. The area also takes in the Round Tower, St Kevin's Church and the aptly named Guinness Lake, as it looks like a freshly-poured pint when viewed from the top. If you're feeling peckish, it's best to take the few minutes to go up to the beautiful village of Laragh where you'll be welcomed with open arms in a selection of eateries.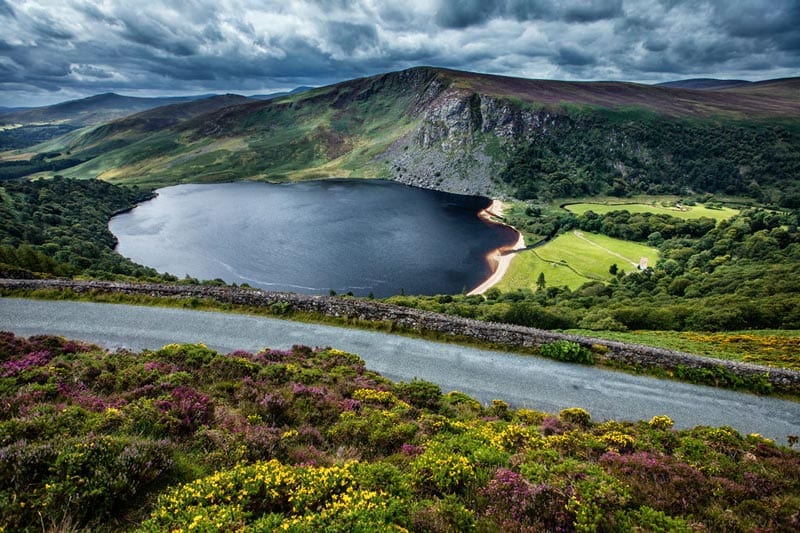 Hike the Sugar Loaf
An extremely beautiful and popular thing to do in Wicklow is to hike up the Sugarloaf which takes roughly an hour, leading to some incredible views. The Sugar Loaf is popular with locals, visitors and the occasional Hollywood star! Mel Gibson was spotted at the summit when filming in Ireland a few months ago. It is not too strenuous while still offering a good walk with spectacular views. Between the miles and miles of incredible views across both Wicklow, Dublin city and Dublin Bay, you might also befriend a few sheep along the way!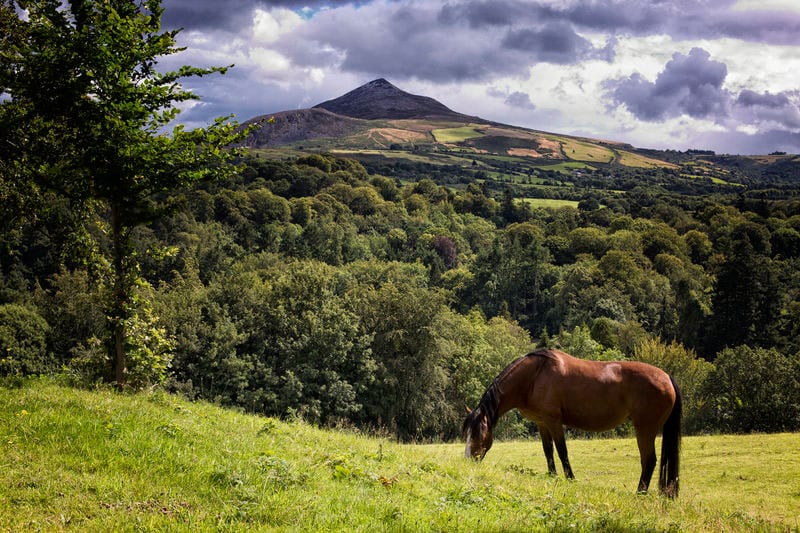 Visit the adorable villages around the Wicklow Mountains
Whether you sign up for a day trip or hire a car, driving through many of Wicklow's picturesque towns and villages can feel like an adventure in itself. Between Roundwood and Laragh is the pretty village of Annamoe the Annamoe River, a great spot for a picnic or a photo break! Aughrim is home to Blacksmith's Forge and some adorable little homes. Avoca, which is famous for its hand weavers and its award-winning food, is a popular stop as well as Roundwood which is one of the highest villages in Ireland. Fancy a pint? Head to Johnny Foxes, which while technically in the village of Glencullen in County Dublin, is said to be Ireland's highest pub and a great stop en route to exploring County Wicklow!
If your time is limited in Ireland why not take a day tour that encompasses the highlights of County Wicklow and a visit to the historical city of Kilkenny to make sure you don't miss out?