Private Tour From Dublin To Cliffs Of Moher, Wild Atlantic Way, Atlantic Edge Ocean Walk & Galway City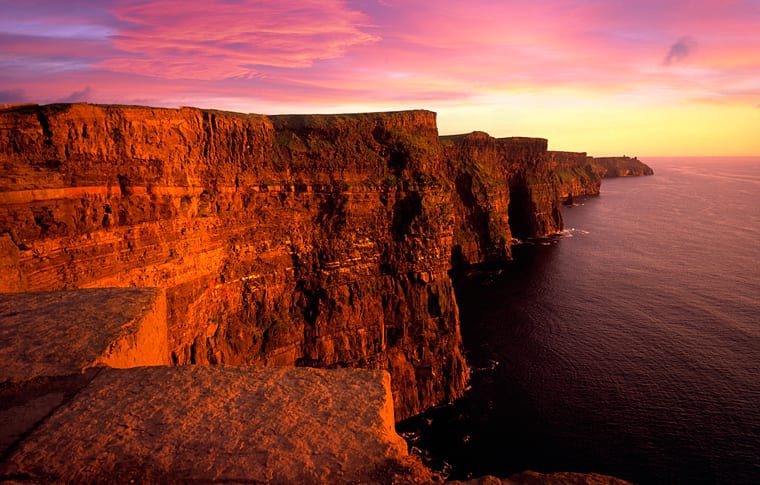 A private tour to the west coast of Ireland is the perfect opportunity to explore the gems this rugged coast offers in the comfort of a private vehicle. Our sample itinerary is designed to whet your appetite, but you have the final say! With possible destinations such as lively Galway city, the UNESCO listed Cliffs of Moher, and the impressive Wild Atlantic Way, you're in for a uniquely personal adventure. Prices start from €500 for two in a luxury Mercedes Saloon E220. Contact us to book a private group tour, to get a quote or more information.
Why Choose this Tour
Craft your perfect adventure - tell us where you want to go in Ireland and we'll take you
Your expert guide will help you discover the best locations & point out the perfect photo opportunities
Adaptable to all group sizes, whether you want a day trip or a multi-day adventure
Perfect for cruise ship passengers
Visit the Cliffs of Moher - voted seventh Most Wonderful Heritage Site in the World by UNESCO
Enjoy a guided walking tour in Galway, Ireland's 'most Irish' city
Take the opportunity to stop off at a traditional pub and listen to live Irish music
Go to the home of 75% of Ireland's national flora - the Burren!
Visit the Wild Atlantic Coast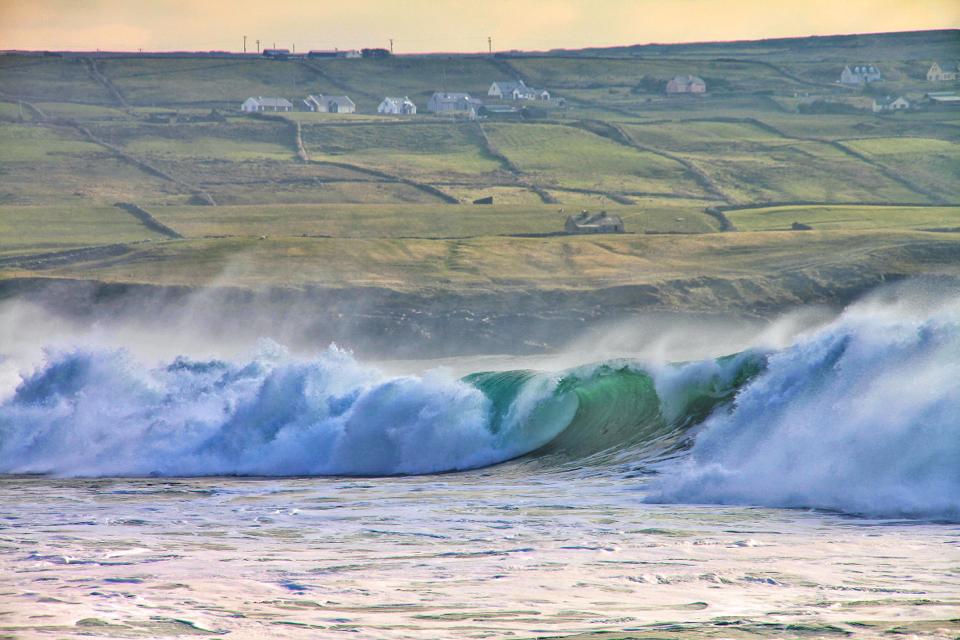 Make the most of your time in the emerald isle on a private, escorted tour with Wild Rover Tours. Your personal guide can tailor the experience to your interests. This is not a concrete itinerary; we can adjust it to suit your needs. Whether you're a couple, small family or large group, get in touch with us today and see Ireland your way! We've created a sample itinerary of the West to showcase all the beauty on offer. The majestic Cliffs of Moher offer magical views along the coastline, and a visit here makes it obvious why they are the most visited tourist attraction in Ireland. Galway is a compact, vibrant city full of fun and friendly people. With a very different atmosphere to Dublin it is a fantastic place to visit on a trip to Ireland.
Cliffs of Moher
Incredible Views of the Aran Islands
Walk Along the Impressive Cliffs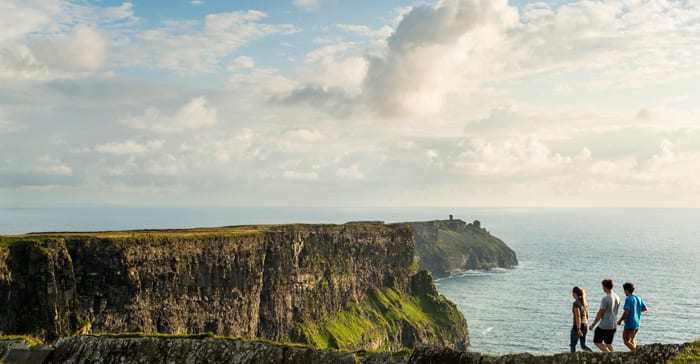 After breakfast in your hotel your guide will meet you to whisk you away for the day in our Mercedes E220. Travel with your guide through horse racing county of Kildare, rural Limerick to scenic Co Clare. The road to the cliffs passes Bunratty Castle, a 15th century medieval Norman fortress, and on through Lahinch, a world famous surfing and golfing destination. Arriving at the Cliffs of Moher, you can use your premium admittance ticket to the Atlantic Edge – an exciting interpretive centre and a new visitor experience. Situated in a large domed cave, see photographs, exhibits, and displays that will enchant all who visit. Moving outside, enjoy a walk along the 700 foot high cliff top. The breeze will blow away any cobwebs! Admire the views out across the Atlantic and up and down the coast line in this most beautiful part of Ireland. Visit O'Brien's Tower, which stands proudly on a headland off these wonderful Cliffs, and see the Aran Islands and Galway Bay.
The Burren
Travel Through Burren National Park
Take in Historical Monuments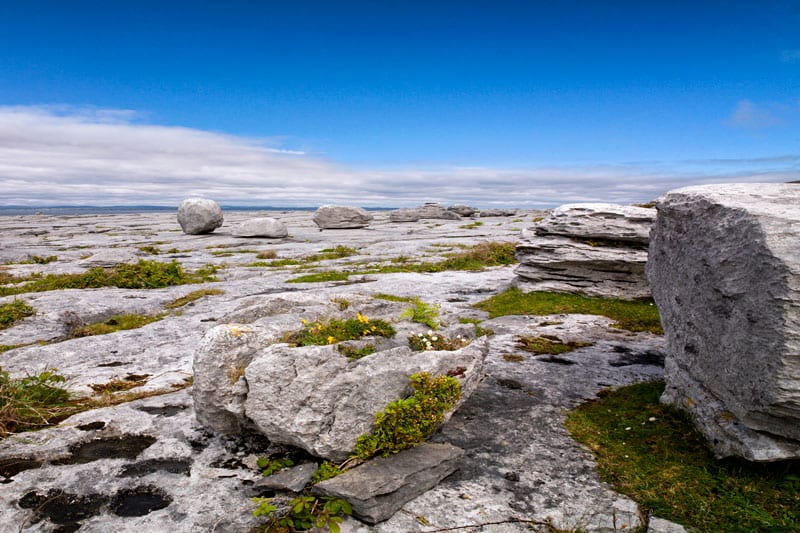 From the Cliffs of Moher your guide brings you deep into the Burren. An amazing scenic drive along Europe's edge – next stop North America! – along the 'Atlantic Coast' and through the Burren National Park. Watch out for ancient monuments, megalithic tombs (older than the Pyramids!), fairy forts and celtic crosses; your guide will be happy to stop to take photos of your favourites. We also have the opportunity to stretch our legs in the lunar like landscape that makes up the Burren.
Continuing around Galway Bay towards Galway city we pass the Blackhead Lighthouse and on through Kinvara fishing village famed for its Galway Hookers (boats) and Dunguaire Castle built in 1520 and originally the royal palace of the King of Connaught.
There are so many stories to be told about this part of Ireland that you will be thrilled that you have chosen a private tour with a dedicated professional tour guide.
Galway City
Experience a Unique Atmosphere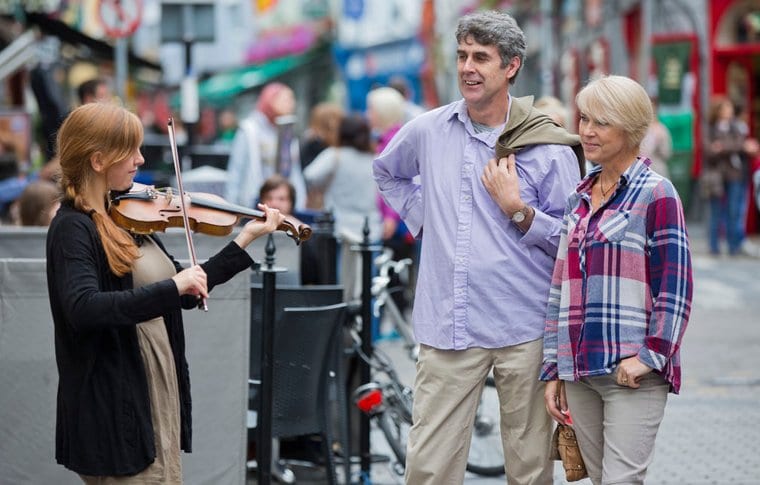 Known as the city of the tribes, we arrive in Galway city mid-afternoon. Your guide can take you on a 30 minute walking tour of the city W.B Yeats called the 'Venice of the West' to allow you to get your bearings. You then have time to explore the narrow pedestrian streets and discover speciality shops, boutiques and cafes. Galway city has a uniquely different atmosphere to Dublin. Hear traditional Irish music coming from the open doorways of quaint pubs, listen to street performers down cobblestone alleyways and meet the friendly people of this small city. A great insight into the bohemian capital of Ireland!
If we have whet your appetite enough to consider booking a private tour of the Cliffs of Moher, why not contact us today to discuss your needs. We would be delighted to help you make the most of your holiday in Ireland.
Book another wild rover day tour & save 10% off your second tour
Please note that you'll need to book both tours at the same time to redeem the discount.