Cliffs of Moher & Ennis Town Traditional Music Tour
All Admissions & Walking Tour Included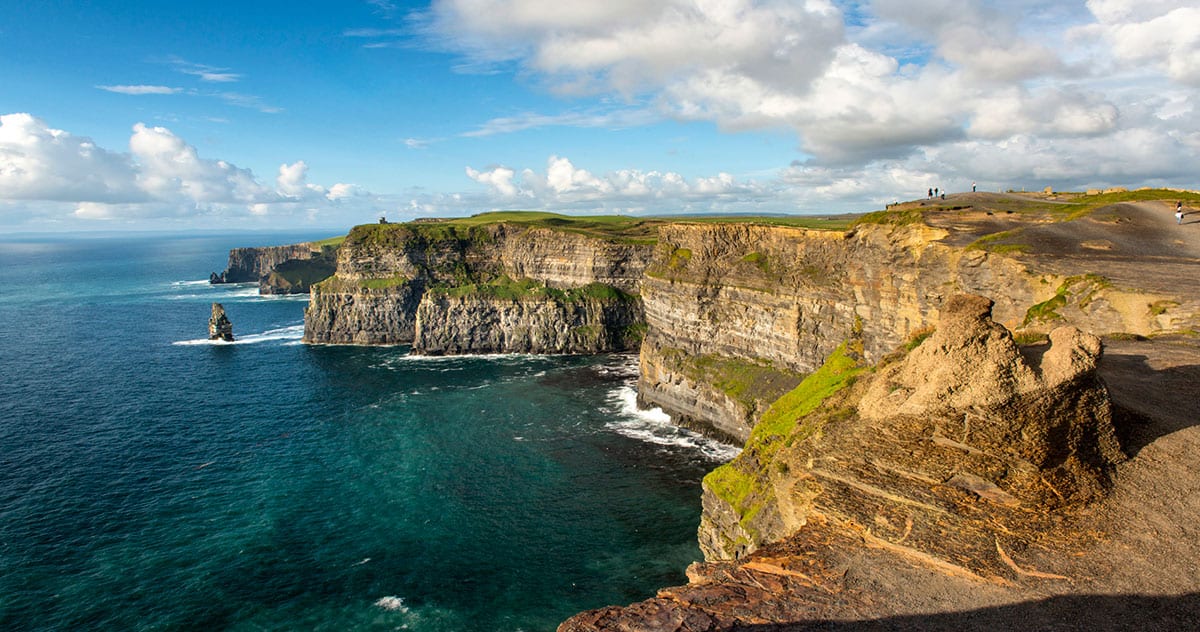 Reviewed on TripAdvisor the best tour company in Northern Europe 2023.
Visit the Cliffs of Moher - voted seventh most wonderful heritage site in the world by UNESCO.
Witness spectacular views over the Atlantic Ocean, take in stunning views of the Aran Islands and Galway Bay home to dolphins and basking sharks.
Explore the Cliffs of Moher Visitor Centre – Entry is Included.
Visit Ennis, Ireland's friendliest town and enjoy a guided walking tour.
Experience a Traditional Irish music session at a famous Irish Pub
Pull your own pint of Guinness
Option to stay overnight in Ennis at discounted hotel rates.
Why Choose this Tour
Reviewed the number 1 tour company in Ireland every year between 2014 and 2023 with multi-year awards every year across Europe and rest of the world. Most recently reviewed as the best tour company in Northern Europe 2023.
We are the only operator to employ a separate driver and guide on all tours.
Wild Rover Tours is the only tour company to offer free walking tours at attractions, including the Cliffs of Moher.
Best Price Guarantee. Book direct for the best price on this day trip from Dublin.
We do not accept 'soft commission', meaning no time-wasting or low-interest stops for our customers.
Comfort breaks are built into the itinerary of the day.
Wild Rover Tours has the newest fleet of vehicles with unlimited 4G wifi on board.
We guarantee you the very best of customer service at all times. Once our customer you are always our valued customer.
Tour Details
Price
Adult: €70.00
Book 2 day tours at the same time and receive 10% off your 2nd tour. Just add both tours in the basket and the discount will be applied automatically.
We apologise but tour is not suitable for U18s.
Overnight Option
We have negotiated exclusive preferential rates for overnight accommodation in Ennis.
Once you book your day tour you will receive a confirmation email containing special online discount codes so you can book direct online at your preferred accommodation provider in Ennis.
Please contact us at info@wildrovertours.com to reserve a return seat to Dublin from Ennis. A supplement of €15 will be payable on the day
Payment
Our payment gateway requires Strong Customer Authentication (SCA). If you are having difficulty with SCA you will need to contact your card issuer or bank.  Please note your reservation is not confirmed until you receive a booking confirmation via email. If you have not received a booking confirmation please contact us.
Availability
All year except for 17th March, 24th, 25th 26th December.
Pickup
Starbucks Café, 1 – 3 Crampton Quay, Dublin D02 EW97.
Drop Off
7.30pm Dublin city centre
Included
Transport, guides and all admissions, including Cliffs of Moher Visitor Centre.
Note: Other tour companies do not include admission to attractions.
Not Included
Meals. You will have the opportunity to try delicious traditional Irish food on your tour.
Pull your own pint of Guinness experience is available at an additional charge, paid at the traditional Irish pub you will visit in Ennis.
About the Vehicle
Luxury air-conditioned coaches with 4G WiFi and in-coach entertainment.
About Your Guides
Driver & guide. Our drivers and guides are amazing! Read our reviews to find out what other customers have to say about them, and our award-winning day tours.
Things to Bring
Warm clothing, comfortable shoes
Cancellation Policy
Full refund up to 24 hours cancellation notice in advance of the date of the tour. That is prior to 12.01am on the day before the tour date.
Cancellation notice must be given by email, if no cancellation notice is given, the refund policy is then at the discretion of the reservations department.
Explore the World-Famous Cliffs of Moher
Check out this video to see what you can expect on your Cliffs of Moher day trip from Dublin with Wild Rover Tours.
Cliffs of Moher
UNESCO World Heritage Site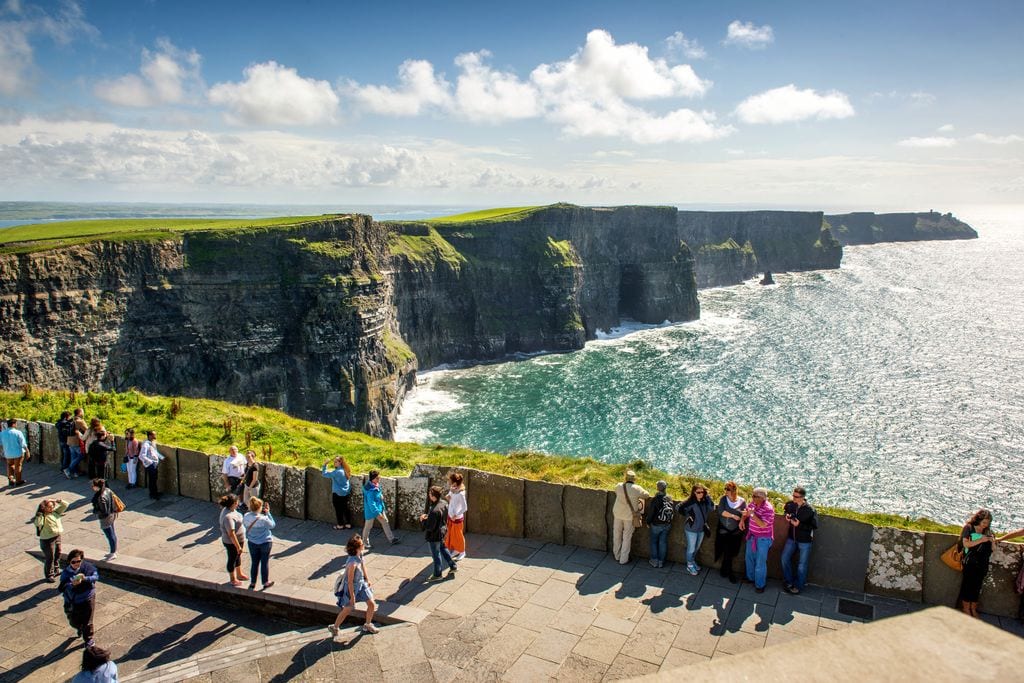 Departing at 7:00am your day tour to the Cliffs of Moher from Dublin will travel through Kildare, Laois and Limerick before arriving in County Clare. We will pass by Bunratty Castle, a 15th-century medieval Norman fortress, and on through Lahinch, a world famous surfing and golfing destination.
Arriving at the Cliffs of Moher at approximately 10:45am you will be struck by their enormity. The sheer height of the cliffs and the spectacular views are sure to leave a lasting impression. The cliffs are 214m high at the highest point and run for 8 kilometres along the western seaboard of County Clare. If you're brave enough to make your way to the edge, you'll see waves crashing against the foot of the cliff and birds circling on the wind. Feel on the edge of the world as you take in breath-taking sea views and brace the fresh sea breeze.
During your 2-hour stop at the Cliffs of Moher, you can choose to visit O'Brien's Tower, which stands proudly on a headland overlooking these wonderful cliffs, and enjoy views of the Aran Islands and Galway Bay.
Your tour includes a premium admittance ticket to The Atlantic Edge interpretive centre. Here you can see photographs, exhibits, displays and experiences that will add extra insight to the Cliffs of Moher. The Ledge virtual reality cliff face adventure shown in the audio-visual theatre allows you to experience life at the cliff face both above and below sea level.
Traditional Irish Music Experience
Live Traditional Music Session
Departing the Cliffs of Moher we head to Ennis, Ireland's friendliest town. Stretch your legs and uncover Ennis' hidden gems on a guided walking tour to explore the town's culture, people and history.
Next is an unforgettable traditional Irish music experience at the famous Knox's Pub in Ennis town featuring a host of talented traditional musicians. Traditional Irish music is an important part of Ireland's culture and heritage and Ennis is at the heart of the trad scene in Ireland, home to musicians famous both at home and abroad.
A choice of excellent food options are available and there is also an option to enjoy a pull your own pint of Guinness experience (extra charge).
An overnight option is available at discounted hotel rates if you would like to extend the experience and stay on in Ennis. However, this must be booked in advance.  Contact us and we can take care of all the arrangements.
Departing Ennis at 5:20pm, you can now sit back and relax as we begin our journey back to Dublin with wonderful memories to share.
Special Offers - Up to 12.5% Off
Book a bundle of 2 tours and receive 10% off both tours, or receive 12.5 % off if you book 3 tours.