Join Wild Rover for a private day tour and an incredible adventure!  Our sample itinerary to medieval Kilkenny, the spectacular landscape of the Wicklow Mountains, and the beautiful glacial valley of Glendalough is designed to showcase the gems of the ancient East. We'll help you plan your private day trip but you have the ultimate say in where you want to go. Our professional. award-winning driver/guides will drive you to your desired destinations & is on hand to offer local area history and folklore, advice, suggestions and information.
We cater for all group sizes and interests. Contact us now and we can tailor a trip to any location in Ireland so you get the best out of your holiday!
We offer both day trips and overnight tours featuring some of Ireland's top visitor attractions. Prices start from €500 for two in a luxury Mercedes Saloon E220. Contact us for more information or to start planning your ideal itinerary.
Warum Diese Tour?
---
Follow this tour, adapt it, or create your own itinerary anywhere in Ireland!
Suitable for all group sizes, whether you want a day trip or a multi-day adventure!
Your friendly, knowledgeable guide will drive you to your desired destinations and is on hand to offer advice, suggestions and information should you need it
Travel through the Wicklow Gap, one of Ireland's highest mountain passes
Visit the filming location of films such as Braveheart & PS. I love you
Wander the glacial lake of Glendalough & surrounding forests
A truly unique experience of the people, history and culture of the East coast
Private Tour to Ireland's Ancient East
---
Make the most of your time in the emerald isle with a private, escorted tour with Wild Rover Tours. Your personal guide can tailor the experience to your interests. We've created this sample itinerary to Glendalough, Wicklow and Kilkenny, featuring some of the gems of Ireland's Ancient East for you to explore the historic landmarks and untouched landscapes this gorgeous coast offers.
Visiting the ancient city of Kilkenny is a must on a trip to Ireland and the beautiful scenery in Glendalough has to be seen to be believed. A private guided tour is a great way to see some of Ireland if your time with us is limited. The advantage of holidaying/vacationing on such a compact island is we can comfortably see both in the same day!
Kilkenny City
---
Enjoy a Walking Tour of Medieval Kilkenny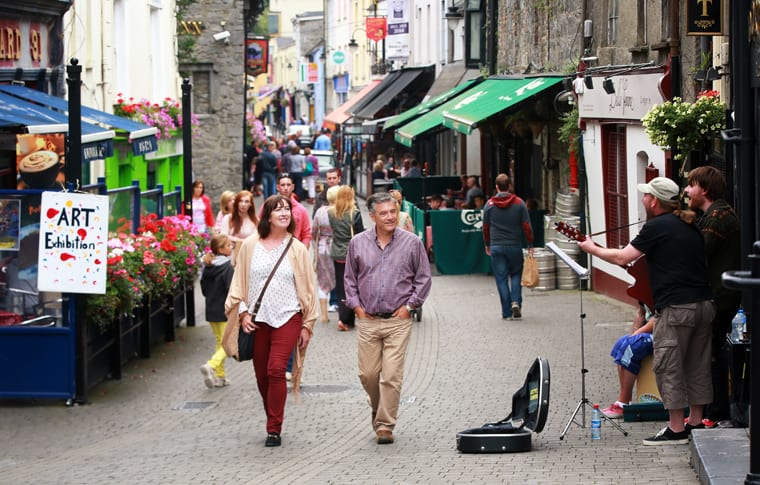 After breakfast in your hotel your driver/guide will collect you. After introductions they will whisk you away for the day in our Mercedes E220. On route to Kilkenny we will travel through some very scenic countryside. Your guide will point out some highlights as we travel. Our first suggested point of call is, Kilkenny Art & Design Centre and Kilkenny Medieval Castle. Enjoy snacks and gourmet coffee in the artisan cafe before taking a guided tour of Kilkenny Castle.
The castle is the signature symbol of the city and is majestically located on the banks of the River Nore. Kilkenny Castle has a storied past and was once the Irish stronghold of the legendary Strongbow.
Our visit to this medieval city will then continue with walking tour led by your private guide. The 30 minute tour will take you through the winding cobbled streets and under the city's many medieval arches. Your guide will regale you with the history of this beautiful city as you explore all the main attractions and landmarks.
After the walking tour, you will have a further hour to explore Kilkenny at your own leisure. The city's compact nature means that all the points of interest are easily accessible by foot and you will have plenty of time to visit additional attractions if you wish. Suggested options for leisure time: Black Abbey, St Canice's Cathedral, Rothe House. You may choose to walk the famous 12th century Kilkenny Castle grounds and magnificent gardens.
Rothe House is a magnificent example of a wealthy silk merchant's home built in 1594. The house contains multiple medieval exhibits, including priceless Viking artefacts and a medieval garden which contains plants of the era including Gortahork cabbage and Blood of the Boyne apples.
Some of the finest Irish artisan food is produced in and around the Kilkenny area. On your tour you will have the opportunity to enjoy lunch in the city. There are plenty of cafes and charming gastropubs to choose from. You tour guide will be happy to make lunch recommendations once you arrive in the city.
Wicklow Mountain Tour
---
Walk the Dramatic Mountain Landscape
Fantastic Photo Opportunities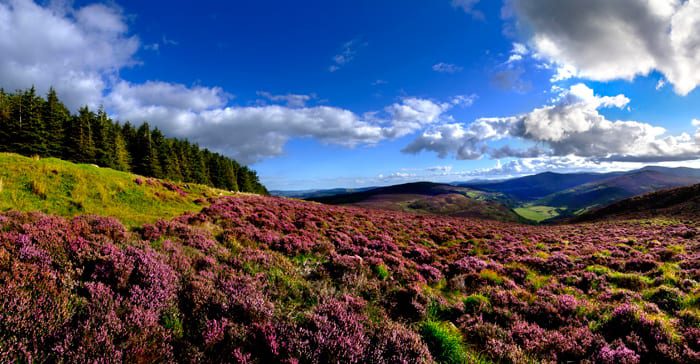 After lunch our suggested itinerary takes us into the wild and rugged Wicklow Mountains, also known as the garden of Ireland. The Wicklow Mountains are a National Park and one of the most popular in Ireland – and it is obvious why! Take advantage of a stop for a stroll and photos on top of the Wicklow Mountains overlooking the glens and valleys of County Wicklow. The breathtaking landscape dotted with lakes, is something not to be missed. It is home to numerous wildlife habitats and local fauna, including some internationally-recognised endangered species!
Glendalough
---
Witness Incredible Natural Beauty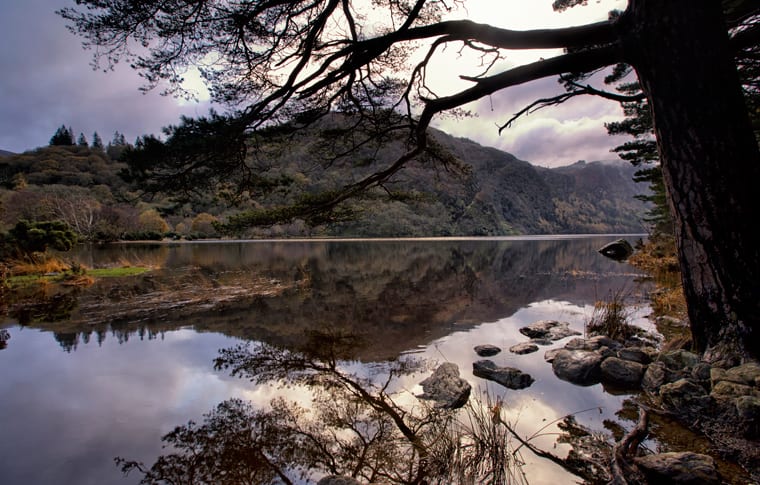 Our private day tour from Dublin can continue with a visit to Glendalough.This most scenic of locations begins with a guided tour of the ancient monastic site, established by St. Kevin in the 6th Century. When you see the scenery with your own eyes, you will know why these ancient monks chose this corner of Ireland to call home. The monastic city is a national monument of immense importance and it is here that Irish monks 'saved civilisation' while the rest of Europe went through the Dark Ages. This location later acted as a shelter for Christian manuscripts to protect them from the barbarous marauding Vikings.
Once the tour is over you will have ample time to take a walk around the beautiful lakes to fully appreciate the beauty of the area's natural wonders.
Book your Private Tour
If we have whet your appetite enough to consider booking a private tour of Kilkenny and Glendalough, why not contact us today. The above is just a sample itinerary.
Our travel experts will help you customise an itinerary that suits your needs and interests. Contact us today to get a quote or to book a private group tour to to Kilkenny and Wicklow.We would be delighted to help you make the most of your holiday/vacation in Ireland.