Schedule suspended until further notice
Spend two fantastic days exploring the wilderness of the West on a Connemara and Aran Islands tour! Journey through the emerald expanse of Connemara, enjoy a pint of the black stuff in Galway, experience local life on the Aran Islands, and drive along the world-famous Wild Atlantic Way.
Warum Diese Tour?
---
Explore island life on Inis Oirr, take a cart ride, visit one of the local pubs and listen to traditional Irish music
Cruise along the base of the Cliffs of Moher and take in their sheer magnitude
Visit Ireland's only fjord and its stunning surrounding landscape
Travel through the beautiful landscape of crystal clear lakes and towering mountains in the Inagh Valley
Visit a ruined medieval abbey in Cong Village & explore the vast wilderness of Connemara
Experience a demonstration of working sheepdogs rounding up sheep in the Connemara countryside
Enjoy the cultural and bohemian capital of Ireland, Galway city
Get 20% online discount on your Hop On Hop Off Bus, or get up to 12.5% off when purchasing a bundle that include 2 or more Wild Rover Tours day tours
Details zur Tour
---
Price:
€210 per person.
Prices are for twin/double share. We happily accommodate solo travellers for an additional €35.
Availability:
Schedule suspended until further notice
Please note that until further notice this tour is only available on a group booking basis (minimum of 10 people). Please email info@wildrovertours.com with your inquiry. We apologise for any inconvenience caused.
Pickup:
6:30am Depart Dublin Abigails Hostel, Aston Quay, Dublin 2
Drop Off:
Return to Dublin for approx. 9:00pm. Drop off is at O'Connell Bridge
Things to Bring:
Warm clothing, comfortable shoes, a swimsuit (optional)
Included:
Driver guide, B&B accommodation, breakfast on overnight, stay sheepdog trials, ferry to Aran Islands, Cliffs of Moher boat cruise
Special Offers:
Get 20% online discount on your Hop On Hop Off Bus, or get up to 12.5% off when purchasing a bundle that include 2 or more Wild Rover Tours day tours
About the Vehicle:
Luxury air-conditioned coaches with 4G WiFi
About Your Guides:
Driver guide. You can learn more about our guides here
Cancellation Policy:
For 2 day tours from Dublin, cancellations made 7 days or more prior to departure date, you'll get a 100% refund. If you make your cancellation 72 hours or less (up to 7 days) you'll receive 50% back due to the booking of rooms.
Payment
Our payment gateway requires Strong Customer Authentication (SCA). If you are having difficulty with SCA you will need to contact your card issuer or bank.  Please note your reservation is not confirmed until you receive a booking confirmation via email. If you have not received a booking confirmation please contact us.
Explore Rural Ireland On Day One...
---
Witness a Demonstration of Working Sheep Dogs
Stay Overnight in Galway City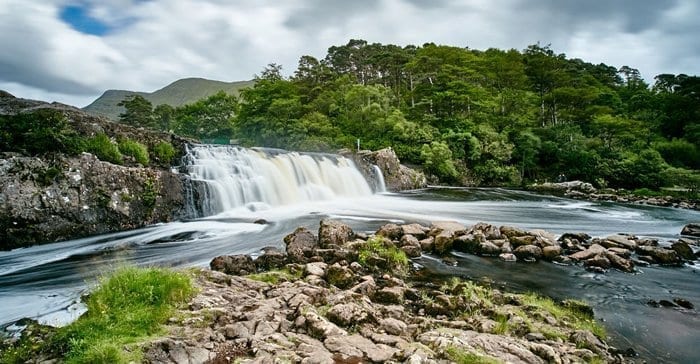 Today we will venture to the true heart of Ireland as we journey to Inagh Valley, learn about 600 million year old Connemara marble in the visitor centre, and overnight in the lively cultural capital of Galway city. Expect to recieve nothing but smiles and warm welcomes as we explore the West!
Cong Village
Cong was used in filming the 1952 Oscar-winning movie 'The Quiet Man', which starred John Wayne and Maureen O'Hara. Filmed on the grounds of Ashford Castle, the movie has continued to resonate in the area and is still a major tourist attraction. Cong also has a fine example of a ruined medieval abbey, where Rory O'Connor, the last High King of Ireland, is reputed to have died.

Joyces Sheepdog Trials
Here you'll witness a demonstration of working sheep dogs rounding up sheep in the Connemara countryside. You can also check out the newest arrivals in puppies and lambs.
Leenaun Village and Killary Fjord (lunch)
Leenane is a place of contrasts. Situated at the head of Killary Harbour, a 16km Fjord, it nestles under the Maamtrasna and Maamturk mountains on the Galway-Mayo border. The area has been inhabited since prehistory, evinced by ancient tombs and the potato ridges climbing the mountains. Leenane is famous for the stunning and varied beauty of its location.
Ireland's only true fjord, it extends 16km (10 miles) in from the Atlantic to its head at Aasleagh, below Aasleagh falls. It forms the border between Galway and Mayo and boasts some of the most spectacular scenery in the West of Ireland.
Killary Harbour is also extremely deep, over 45m at its centre. It is a centre for shellfish farming, and strings of ropes used to grow mussels are visible for much of its length. The mussels and clams grown in Killary Harbour are sold at the Westport Country Market every Thursday morning.
Kylemore Abbey. Photo Stop only.
The story of Kylemore Abbey is a truly remarkable one that spans over 150 years of tragedy, romance, innovation, education and spirituality. Built as a breath-taking Castle in 1868, it is now the Abbey and home of the Benedictine community of nuns.The Benedictine nuns arrived at Kylemore in 1920 after their Abbey in Ypres, Belgium was destroyed in the early months of World War I. Settling at Kylemore, the Benedictine Community opened a world-renowned boarding school for girls and began restoring the Abbey.
Inagh Valley
Departing Kylemore we travel through the Inagh Valley, one of the most beautiful drives in the West of Ireland. Crystal clear lakes and towering mountains dominate this magical landscape.
Here we will head to Connemara Marble Visitor Centre, the home of Connemara marble and one of Ireland's oldest indigenous Industries. The visitor centre was opened by Ambrose Joyce in 1965 and is celebrating over 50 years in our Moycullen premises. We are the owners of two Connemara marble quarries which are located in the heart of Connemara known as "Joyce country". Our Company is a Family Business and visitors to our centre will meet with 3 generations of the Joyce family. During the summer season, we offer guided tours of the marble jewellery factory where we explore the geology and heritage of Connemara marble, as well as view silversmiths and craftsmen cutting and polishing the forty shades of green.
Connemara marble is regarded as one of the most authentic Irish products available in Ireland. Geologists estimate that it is about six hundred million years old. The colour and markings in the marble reflect the natural beauty of the mountains of Connemara. The marble is quarried, fashioned and polished by skilled craftsmen at the Connemara Marble Factory Visitor Centre, Moycullen, Co. Galway.
Galway City
Enjoy an overnight in Galway city, the cultural capital of Ireland. Stroll the medieval streets of this quaint town, experience the street buskers and entertainers and some of the best nightlife in Ireland.
Venture To Inis Oirr On Day Two...
---
Enjoy a Cliffs of Moher Cruise
Take in Majestic Views of the Burren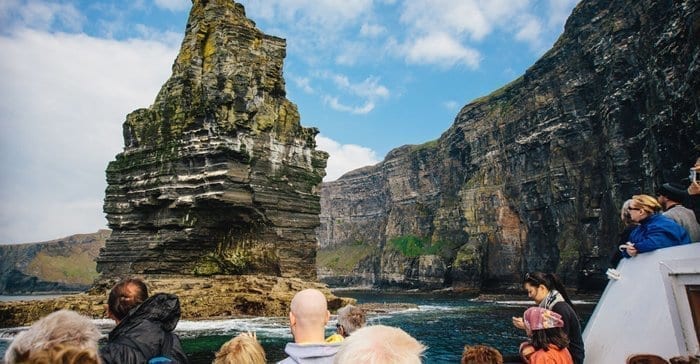 Day two of your trip is equally packed with stunning landscapes and cultural insight as we drive along the scenic Wild Atlantic Way, journey through the lunar-like landscape of The Burren, and visit Inis Oirr, the smallest of the Aran Islands. A truly comprehensive exploration of the best of the West.
A hearty Irish breakfast is served between 7:30 am and 8:00 am after which we depart Galway for a drive along the Wild Atlantic Way. Enjoy stunning vistas over Galway Bay and the Aran Islands as we pass through the glacial karst region of The Burren – over 200 km sq of Limestone rocks forming lunar-like landscape which is unique to this area of Ireland.
Arrive Doolin (for 11:00 am ferry to Inis Oirr)
Arriving in the picturesque fishing village of Doolin we will catch the ferry to Inis Oirr, the smallest of the three Aran Islands measuring approximately 3 km x 2 km (2 miles x 1 mile). Just over two hours will give you opportunity to explore by foot, bicycle or horse and cart the many sights, ancient castles, one of Ireland's most beautiful beaches and several pubs and cafes where local food and traditional Irish music can be heard on a daily basis.
Depart the island and enjoy the Cliffs of Moher Cruise
On our departure from the island, we will take a one hour cruise along the base of the majestic cliffs of Moher, a continuous sheer wall towering over 200m (700ft) high for 8 km (5 miles). The view from the base exposes you to the sheer size and allows you to view the hidden caves and inlets not available from the top.
Return to Doolin
On return, we will spend approximately 45 minutes checking out Doolin village.
Arrive at the top of Cliffs of Moher (admission included) (1 hour 15 mins)
Return to Dublin 9:00 pm