Schedule suspended until further notice
Get ready for spectacular views on a private Ring of Kerry and Dingle Peninsula Tour from Dublin! Kerry is undoubtedly one of the most stunning locations in Ireland. With dramatic cliff faces, imposing mountains, lush green vegetation and a wild Atlantic Ocean, Kerry offers an exhilarating step into an almost-untouched, beautifully rugged landscape.
Warum Diese Tour?
---
Take in incredible views of the Wild Atlantic and Kerry Mountain Ranges
Enjoy a Dingle Peninsula Tour and keep an eye out for Fungie the dolphin
Tour the picturesque Ring of Kerry and admire the wild landscape
Explore the mythology surrounding Torc Waterfall and Irish mythical legend Fionn mac Cumhaill (Finn McCool)
Stay in a traditional B&B in Killarney town and receive a warm welcome from the friendly locals
Discover the heritage and stunning natural beauty of a deeply traditional corner of Ireland
Details zur Tour
---
Price:
€210 per person.
Prices are for twin/double share. We happily accommodate solo travellers for an additional €35.
Availability:
Please note that this tour is currently available on a group booking basis.
Schedule suspended until further notice
Contact us to make an enquiry.
Pickup:
6:30am Depart Dublin Abigails Hostel, Aston Quay, Dublin 2
Drop Off:
Return to Dublin for approximately 8:30 pm the next day. Drop off is at O'Connell Bridge
Things to Bring:
Warm clothing, comfortable shoes, a swimsuit (optional)
Included:
Accommodation and breakfast (on 2nd day)
Special Offers:
Get 20% online discount on your Hop On Hop Off Bus, or get up to 12.5% off when purchasing a bundle that include 2 or more Wild Rover Tours day tours
About the Vehicle:
Luxury air-conditioned coaches with 4G WiFi
About Your Guides:
Driver guide. You can learn more about our award winning guides here
Cancellation Policy:
For 2 day tours from Dublin, cancellations made 7 days or more prior to departure date, you'll get a 100% refund. If you make your cancellation 72 hours or less (up to 7 days) you'll receive 50% back due to the booking of rooms.
Payment:
Our payment gateway requires Strong Customer Authentication (SCA). If you are having difficulty with SCA you will need to contact your card issuer or bank.  Please note your reservation is not confirmed until you receive a booking confirmation via email. If you have not received a booking confirmation please contact us.
Discover The Beauty Of Kerry On Day One...
---
Journey Along the Rugged Coast
Stay Overnight in a Traditional B&B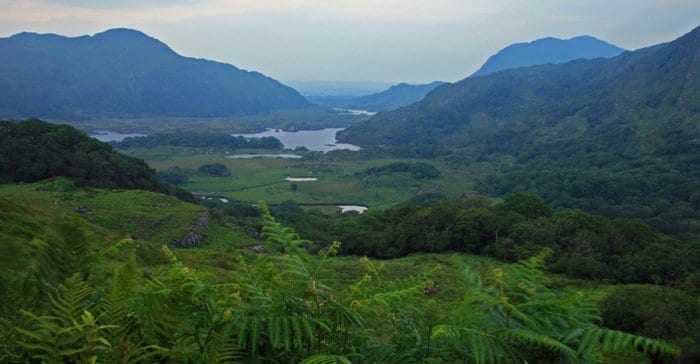 Day one of this Ring of Kerry tour will see us journey along the rugged West Coast, making stops at Rossbeigh beach where you can get sand between your toes, to the majestic Torc waterfall nestled among thick forest foliage, and through traditional Irish villages where you will receive the standard Irish welcome! After what promises to be an unforgettable day, we'll spend the night in a traditional B&B in Killarney where you can rest after the day's adventures!
Journey Through Kerry's Rugged Landscape
CLOSE FULL DAY ONE ITINERARY
6:30am Depart Dublin
Adare Rest stop
We will be stopping in the picturesque town of Adare, renowned as one of Ireland's prettiest towns. Built on the River Maigue it was an important location with its monastery, Abbey and Priory alongside the remains of a 12-century castle built by the O'Donovans. The main street has rows of thatched cottages and is home to the world-famous Adare Manor Golf Club. Adare is designated as a heritage town by the Irish government.
Killorglin
Entering Killorglin we will get the chance to see a statue of a goat, King Puck, that celebrates Ireland's oldest fair. The Puck Fair takes place every August and commemorates the saving of the town by a male goat from attack by the English. The festival has been running for over 400 years.
Glenbeigh
Take the chance to stretch your legs and take a stroll along the golden sands of Rossbeigh Beach. Jutting out into Dingle Bay, the beach offers a stunning vista of the Wild Atlantic Ocean and the mountain ranges of Kerry.
Cahersiveen, Lunch
Birthplace of Daniel O'Connell, Cahersiveen overlooks Valentia Bay. The old Police Station is a large building that they believe was built to plans that were intended for a location in India and got mixed up. After lunch, we will visit the ancient stone fort of Cahergall. These late bronze age forts are difficult to date as many have been built over several different periods. Dominating the horizon is a 25m circle with walls almost 4 m high and 5 m thick, possibly dating back to 1000BC.
Waterville
The favourite holiday location of none other than the famous Charlie Chaplin, whom the village still celebrates with the annual festival in his honour.
Sneem
Nestled between mountains and wild and rugged coast, Sneem offers some of the best views in the country. The village is split into two by the Sneem River with the respective sides being known as North Square and South Square. The river under the bridge has a cascade waterfall that gives some great opportunities for a photo stop.
Ladies view
The scenery is breathtaking from Ladies View. Take in the marvellous panoramic views of the Killarney Valley and Lakes. This location was given the name after being visited by Queen Victoria's ladies in waiting when they visited here in 1861.
Torc Waterfall
Take a short stroll through the moss-covered forest to this 20m high waterfall. Torc waterfall gets its name from the Irish word torc meaning boar and is steeped in Irish mythology. It is said that an enchanted boar was killed there by the legendary hero, Fionn mac Cumhaill (Finn McCool), the hunter-warrior of Irish mythology who led the Fianna warriors in the 3rd century.
Killarney town (overnight)
We will spend the night in a traditional Irish B&B in Killarney town. This small vibrant 'town in the park' is the largest on the Ring of Kerry. With amazing places to eat you can sample all the local delights, visit the quaint shops or maybe just sit back in one of the wee local pubs, sip on a Guinness and listen to some Trad music.
Further Adventures Await On Day Two...
---
Walk the Golden Sands of a Blue Flag Beach
Take in Majestic Views Along Slea Head Drive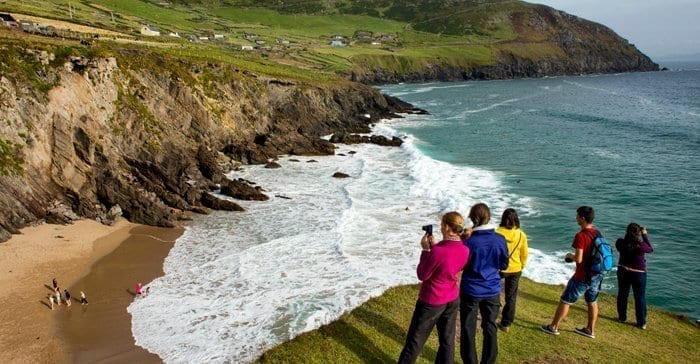 An equally breathtaking adventure is in store for day two! Today we'll journey to one of Ireland's finest blue flag beaches, cruise alongside Dingle's resident dolphin Fungie in Dingle Bay (optional), and drive along Slea Head Drive for spectacular views over the Atlantic. We'll make our return journey to Dublin this evening with cameras full of stunning pictures and fond memories!
Experience the Dingle Peninsula
CLOSE FULL DAY TWO ITINERARY
Optional Jaunting car tour €13 to Rosses Castle
Killarney is known for its 'jaunting carts' and what better way to start the day than with a ride on this traditional mode of transport? The driver will pick you up at the hotel after a hearty Irish breakfast and whisk you off to one of the best-preserved examples of a medieval castle on the shore of Lough Leane. Alternatively, you can travel in our Wild Rover bus.
Inch Beach
Here you will have a chance to do a little beach-combing or maybe even a quick dip on the beautiful golden sands of Inch Beach. Stretching out into Dingle Bay and one of Ireland's finest Blue Flag beaches, this beach is popular with surfers, swimmers and anglers. The Sand dunes here act as an important part of the local ecosystem supporting dozens of types of birds.
Dingle Town
You'll find it difficult to get more traditional than the town of Dingle. Centred around the quaint fishing port, Dingle offers a multitude of restaurants to choose from, as well as countless opportunities from visiting Dingle Distillery, wandering the streets, or taking a cruise to see Dingle's most famous resident dolphin, Fungie. Here you'll have the opportunity to get up close and personal with a wild dolphin that has been resident in the harbour for over 30 years and enjoys frolicking with the boats in the bay. You will have the opportunity to take lunch here in the place of your choice.
Slea Head Drive
One of the most spectacular drives on the West Coast of Ireland, this loop drive west of Dingle is outstanding. The coastline consists of steep sea-cliffs, broken by sandy beaches, and the Blasket Islands, which lie to the west of the peninsula. These narrow roads are what you would expect from decades past.
Nenagh Castle
On route to Dublin, we drop into the Market Town of Nenagh for a rest stop. We'll stop close to the tallest and most impressive building in the town centre, the fully restored castle tower built in 1216, located right across the road from the original jail turned heritage centre.
8:30 pm Return to Dublin