Knowledgable Driver/Guide
Want to visit Belfast? A private tour is the ideal way to explore this spectacular part of the world. On your private tour to Belfast from Dublin your personal and knowledgeable driver/guide will help you make the most of your experience.
A Wild Rover Tours private guided day trip offers guests a unique opportunity to delve into the history and culture of Belfast and Northern Ireland thanks to the experience and knowledge of our amazing tour guides.
Choose from popular Belfast attractions such as the Titanic Experience, The Peace Wall or a Black Taxi Tour.  We will build a custom itinerary for you based on your preferences, our team can help you plan your ideal trip.
Travel in style in luxury touring vehicles. We can cater for small, medium and large groups. Prices start from €650 for two in a luxury modern saloon car, for larger private group tours get in touch to discuss your requirements.
Perché Scegliere Questo Tour
---
Fully customizable itinerary. Tell Wild Rover Tours where you would like to go in Belfast, and we'll take you!
Travel in style in a luxury vehicle.
Adaptable to all group sizes, whether you want a one day trip or a multi-day adventure!
Your friendly, knowledgeable guide will drive you to your desired destinations & is on hand to offer advice, suggestions and information should you need it
Learn About Belfast's Troubled Political Past on a Black Taxi Tour of Belfast.
Walk along the Peace Wall which divides the two religious/national communities of east Belfast
No visit to Belfast should go without a tour of the Titanic Experience, voted "World's Leading Tourist Attraction' at the prestigious World Travel Awards!
Private Tour to Belfast - Sample Itinerary
---
Make the most of your time in Ireland with a private, escorted tour with Wild Rover Tours. Your personal guide can tailor the experience to your interests.
Ireland is such a compact island that we can comfortably see the very best of what Belfast has to offer on a one day trip from Dublin.
Below is a sample itinerary including some of the highlights of a day trip to Belfast. It is flexible and we can adjust it to suit your needs. Simply let us know your group size and the duration of your trip, and we will help you craft your ideal private day trip to Belfast!
It's worth noting that Ireland is a very a compact island. We can comfortably see all the highlights of Belfast and also visit the beautiful scenery and rugged landscape of Giant's Causeway, UNESCO World Heritage Site, one of the most geographically diverse places in the world. The choice is yours to make!
Belfast - Titanic Experience
---
Titanic Quarter & Maritime Mile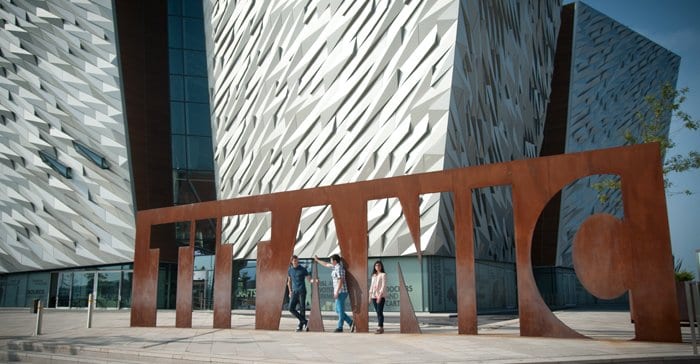 On the way to Belfast we travel through the Boyne Valley. Your private driver / guide will tell you stories about the many historical events which occurred in this area of Meath over hundreds of years. One of the most famous is the battle of the Boyne which influenced the political and cultural history of Ireland for hundreds of years after. The Boyne Valley is also home to Newgrange Passage Tomb, a monument that is older than the pyramids.
Belfast City
Arriving in Belfast you will notice the difference between it and Dublin. Belfast was the only city in Ireland which experienced the Industrial Revolution of Britain during the 19th century.
At this point you have the option to take a tour or explore Belfast at your leisure.
Titanic Experience
The Titanic Quarter and Maritime Mile is one of Europe's largest urban waterfront regeneration projects. Built to be unsinkable, the fate of Titanic is well known. Explore the underwater theatre and recreated decks and cabins of the ill-fated White Star liner on the Titanic Experience Tour.
The Titanic Experience in Belfast's' Titanic Quarter includes access to the nine interpretive galleries, full-scale reproductions, and the opportunity to walk in the shoes of those who built, served, and took passage on the ill-fated liner. This interactive experience exploring the origins of the tragic and legendary ship along with its passengers and crew in the city where she was built, is not one to be missed.
SS Nomadic Belfast & Hamilton Dock
---
Last remaining ship of the White Star Line
Dive into the seafaring past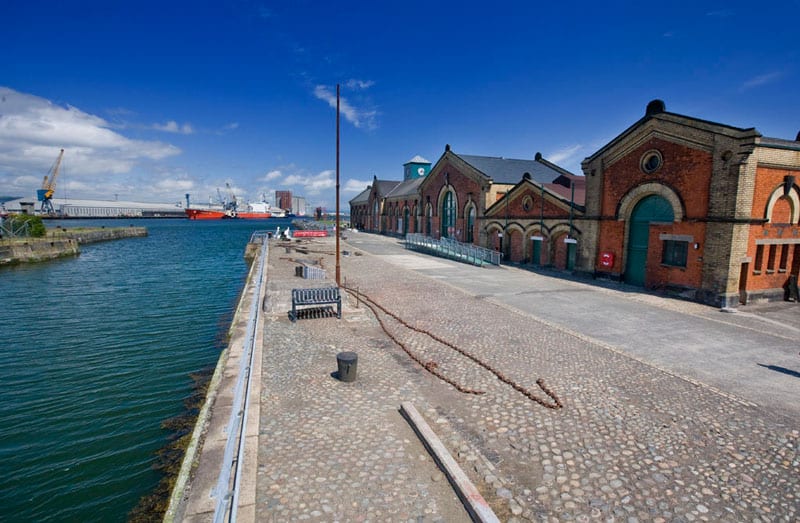 The SS Nomadic is the 105-year-old tender that served Titanic on her maiden voyage, transporting the first and second class passengers from the port of Cherbourg to Titanic. She was also involved with active service for both World Wars. SS Nomadic is the last remaining ship of the White Star Line in the world!
Luckily, she has now been restored and returned to Hamilton Dock at the Titanic Quarter in Belfast. Visitors now have the opportunity to step on board and get a sense of what life was like as a seafarer in the early 20th century. There are interactive displays, live storytelling and photos to help encapsulate the heritage and atmosphere. There are also costumes on board, providing a fun opportunity to dress up as passengers of the Titanic era - make sure to take a camera with you!
Black Taxi Tour
---
Learn About Belfast's Troubled Political Past
Walk along the Peace Wall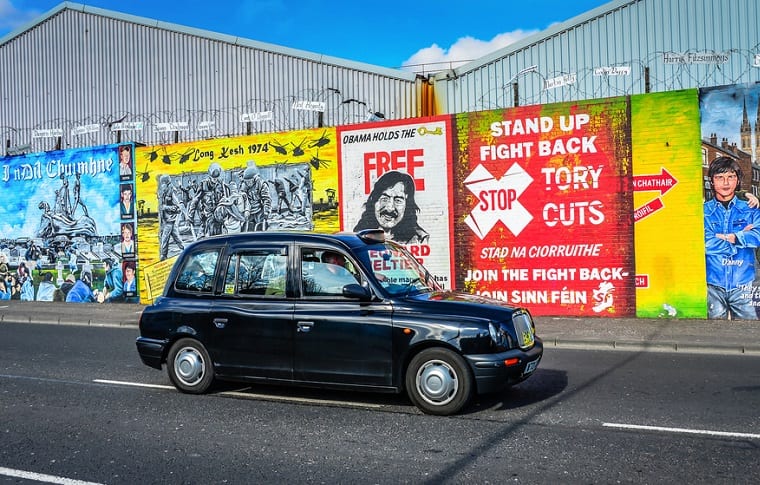 While troubled times are consigned to the history books, people and places in Belfast City still reflect the tragedy and trauma of that period. These troubled times are still fresh in the minds of the majority of the two separate communities. Wild Rover Tours proudly offers a unique visitor experience. Immerse yourself deeply into the days before the fragile peace came to this region.
Black Taxi Tour
If you want to understand more about the political history of Belfast, there is no better way to do it than in a black taxi accompanied by a local driver. On a Black Taxi Tour of Belfast your local guide will bring you to both sides of the community and explain what Belfast was like during the 'troubles'. They will explain the content of the murals on the Peace Wall and how people survived such a chaotic time. Please note that this Black Taxi Tour can also be done on foot if you prefer.
The Peace Wall
One truly memorable stop on the Black Taxi Tour lies along Falls Road and Shankill Road. Here a 5.5 metre – 17 .6 ft high concrete wall known locally and in political terminology as the peaceline. You will have the opportunity to sign the peace wall and have your pictures taken by your guide next to the murals and the wall.
You will also see the tale of troubles in the Belfast area and abroad told on the sides of buildings in the form of powerful murals.
THE GIANT'S CAUSEWAY
---
Visit Game of Thrones Filming Location
Witness the Beauty of the UNESCO Site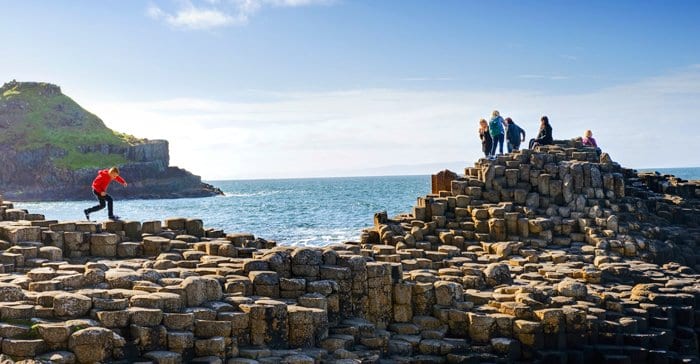 Giant's Causeway
One of the most popular stops on our private day tours to Belfast and Northern Ireland from Dublin is also the most visited natural site in the north of the island, Giant's Causeway.
The spectacular rock formation is named after an Irish myth your driver will be happy to share with you on the way. Created more than 60 million years ago after a series of volcanic eruptions. UNESCO has ranked Giant's Causeway among its world heritage sites and many consider it one of the eight natural wonders of the world.
If you would like to add a stop at Giant's Causeway to your bespoke private tour from Dublin to Belfast, just let us know. Ireland is such a compact Island it can be included in your itinerary without adding any sense of rush to your experience.
Plan Your Belfast Private Tour
The above is just a sample itinerary. Our travel experts will help you customize an itinerary that suits your needs and interests.
If we have whet your appetite enough to consider booking a private tour of Belfast from Dublin, why not contact us today to discuss your needs. We would be delighted to help you make the most of your vacation to Ireland.