Belfast Conflicting Stories Political Tour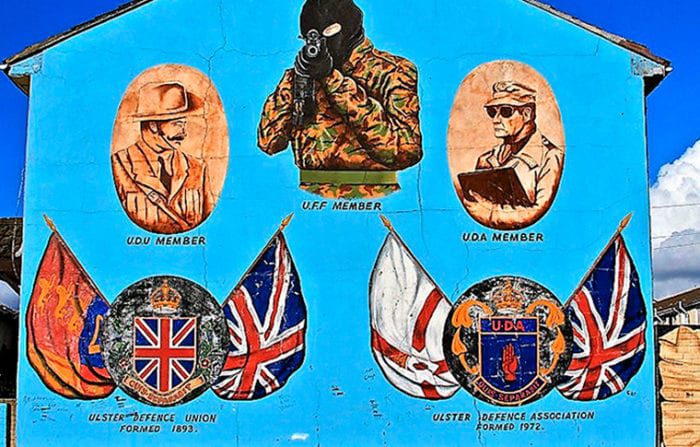 An exhilarating opportunity to experience 'The Troubles' like never before. A Belfast political tour takes you through the divided city of Belfast to hear first-hand accounts from ex-prisoners of both Republican and Loyalist communities. The personal stories of your tour guides bring you as close to this three decade conflict as possible. This is a unique opportunity to hear both sides of the story from the men who lived through and played a part in the turbulent events.
Perché Scegliere Questo Tour
Learn about 'The Troubles' from both a Loyalist and Republican perspective
A rare opportunity to hear from ex-political prisoners on the personal and communal impact of the conflict
Discover hidden aspects of the violence never aired on television or printed in the papers
Stop at the Peace Wall dividing the modern city of Belfast & admire the political murals, largely considered the largest outdoor gallery in the world
Opt to sign the Peace Wall, leaving your thoughts alongside those of Bill Clinton and The Dalai Lama
An exciting chance to explore Belfast through a political and historical lens
Dettagli del Tour
Price:
£18.00 GBP
This tour is not suitable for children under the age of 14 years old.**
Pickup:
2:15pm Meet at Divis Tower
2:30pm Tour departs
Drop Off:
Tour finishes on the Shankill Road close to Belfast City Centre at approximately 5:30pm
Things to Bring:
Please come dressed appropriately for not only the season, but also for the activity.
Warm clothing
Comfortable shoes
Bottle of water
Included:
Republican tour guide.
Loyalist tour guide.
Please note that this tour is operated by a trusted third party provider.
Cancellation Policy:
For cancellation up to 72 hours prior to departure date: 10% administration fee will be imposed. For cancellation less than 72 hours prior to departure date or 'no-show': 100% of the total amount will be charged.
One Conflict. Two Guides. Two Stories.
Hear from both Republican & Loyalist Guides
The Belfast Political Tour is a three hour walking tour led by ex-prisoners from both a Republican and a Loyalist background. The political conflict known as 'the Troubles' raged through Belfast and Northern Ireland from 1969 to 1998. On this tour you will hear the stories and the experiences of two different guides from either side of that conflict.
Your first guide will lead you on a walk up the Falls Road and describe the period of conflict to you from a Republican perspective. After 1.5 hours your first guide will hand you over at the Peace Wall to your second guide who will lead you through the Shankill Road area and describe the conflict from a Loyalist perspective. The peace wall is a stark reminder of the recent conflict. Stretching 40km wide and 10m high in some points, the wall divides two religious communities and two political viewpoints.
Bookings can be made in store or by telephoning +44 (0)28 9031 0101. If you have any specific queries about the itinerary just get in touch and we will assist you in any way we can.
This tour was so interesting and insightful that I haven't been able to stop thinking about it since I got home. Both men had brutal and grim stories to tell but they offered hope for the future and showed that if they can achieve peace and reconciliation then anybody can, anywhere in the world.
Put simply, if you want to explore West Belfast and leave with a real sense of what the Troubles meant to the people within these communities, then you need to do this tour.
Special Offers - Up to 12.5% Off
Book a bundle of 2 tours and receive 10% off both tours, or receive 12.5 % off if you book 3 tours.